A Comprehensive Guide to Hlebomor Insecticide: Effective Pest Control for Residential and Commercial Settings
Overview of Hlebomor Insecticide
Hlebomor is a highly effective insecticide designed to combat cockroach infestations in both residential and commercial settings. Its unique gel formulation allows easy application using a syringe, ensuring that the product reaches even the most challenging and hard-to-access places where cockroaches tend to hide. As a robust solution, Hlebomor insecticide is a reliable choice for those looking to address and control cockroach populations in various environments.
The Importance of Pest Control in Residential and Commercial Settings
Pest control is crucial in maintaining a healthy and comfortable living and working environment. Cockroaches are known to carry a variety of pathogens that can lead to serious health issues, making it essential to address infestations as soon as possible. In residential spaces, effective pest control measures help ensure the well-being of families and pets. At the same time, in commercial settings, businesses must prioritize pest management to maintain a safe and hygienic environment for their employees and customers.
Moreover, unchecked infestations can damage property and create an unpleasant atmosphere in any space. By taking a proactive approach to pest control, property owners and managers can avoid the negative impacts of infestations and maintain a high-quality environment for everyone. Hlebomor insecticide offers a powerful solution to help achieve this goal.
Hlebomor Gel is a highly effective and practical solution to combat cockroach infestations. This innovative product is formulated with 0.05% Fipronil, a powerful insecticide that effectively targets and eliminates various species of cockroaches. The gel formulation ensures a controlled release of the active ingredient, providing long-lasting protection against these troublesome pests.
Easy Application with a Syringe
One of the critical advantages of Hlebomor Gel is its ease of application. The product comes in a convenient syringe, allowing users to dispense the gel directly into cracks, crevices, and other hard-to-reach areas where cockroaches may be hiding. This targeted approach ensures that the insecticide reaches the infestation and minimizes the risk of exposure to non-target organisms and surfaces.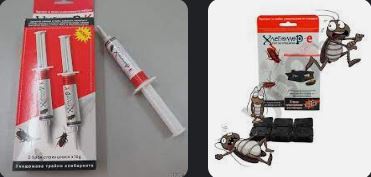 Reaches Hard-to-Access Places
Cockroaches are notorious for hiding in difficult-to-access locations, making it challenging to eradicate them using traditional pest control methods. Hlebomor Gel, with its syringe applicator, allows users to reach these hidden areas easily. The gel's consistency enables it to adhere to surfaces, ensuring that the insecticide remains in place even in vertical or upside-down applications. This feature makes Hlebomor Gel an invaluable tool in the fight against cockroach infestations, as it effectively targets the pests where they live and breed.
Packaging and Contents
Two 10g Syringes per Package
Hlebomor Gel comes in a thoughtfully designed package that contains two 10g syringes. It provides users with a total of 20g of insecticide, sufficient to treat a medium-sized living space (approximately 70-80 square meters). The dual-syringe packaging ensures that customers have an adequate supply of the product to combat their cockroach infestations and achieve long-lasting protection effectively.
Gel Without a Specific Scent
One of the notable features of Hlebomor Gel is that it does not have a specific scent. It is a significant advantage for users, as it ensures that the insecticide can be applied discreetly without drawing attention to the presence of pest control measures. The absence of a strong scent also minimizes the risk of irritation or discomfort for individuals with sensitivities to fragrances, making Hlebomor Gel a user-friendly option for a wide range of consumers.
Promotional Pricing
Hlebomor Gel is offered at a competitive price, making it an affordable solution for those looking to tackle their cockroach problems. The promotional pricing strategy ensures customers can access a high-quality, effective insecticide without breaking the bank. By providing exceptional value for money, Hlebomor Gel establishes itself as a preferred choice for individuals seeking a reliable and cost-effective solution to manage and eliminate cockroach infestations in their homes and commercial spaces.
Active Ingredients
Diatomite – 50.0 d/ 100 d (50.0%)
One of the primary active ingredients in Hlebomor Gel is diatomite, which comprises 50% of the product's formulation. Diatomite, or diatomaceous earth, is a naturally occurring, soft, siliceous sedimentary rock that quickly crumbles into a fine, white powder. It consists of the fossilized remains of diatoms, a type of hard-shelled algae. Diatomite is known for its highly porous structure and exceptional absorption properties, making it an effective agent in pest control products.
When applied to areas where cockroaches frequent, diatomite damages the exoskeleton of the insects as they crawl through the treated area. The fine, abrasive diatomite particles cause tiny cuts in the insect's outer shell, leading to dehydration and, ultimately, death. This physical mode of action allows diatomite to be effective against cockroaches without posing significant risks to humans or pets.
0.05% Fipronil
Another critical ingredient in Hlebomor Gel is Fipronil, which is present at a concentration of 0.05%. Fipronil is a widely used, broad-spectrum insecticide that belongs to the phenylpyrazole chemical family. It is highly effective in controlling various pests, including cockroaches, ants, termites, and fleas.
Fipronil disrupts the normal functioning of the insect's central nervous system. It targets the GABA (gamma-aminobutyric acid) receptors, which play a crucial role in the transmission of nerve impulses in insects. By blocking these receptors, Fipronil causes hyperexcitation in the affected pests, leading to paralysis and death. The low concentration of Fipronil in Hlebomor Gel ensures its efficacy against cockroaches while minimizing the potential for harm to non-target organisms, making it a safe and efficient option for pest control in residential and commercial settings.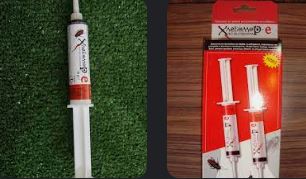 Usage Instructions
Removing the cap and applying the gel
To use Hlebomor Gel effectively, following the correct application procedure is essential. First, remove the cap from the syringe containing the gel. Then, gently press the plunger to release a small amount of gel onto a test surface, ensuring the gel is dispensed smoothly and consistently. Once you are familiar with the application process, you can apply the gel in areas where cockroaches are known to hide or forage.
Application near cockroach hiding places
For the best results, apply Hlebomor Gel in locations where cockroaches are most likely to come into contact with it. These areas may include behind and under appliances, cracks and crevices along baseboards, beneath sinks, around plumbing fixtures, and in other dark, secluded spaces where cockroaches typically hide. Make sure to apply tiny, pea-sized gel droplets at regular intervals, as this will help ensure that the cockroaches encounter the product and consume it.
Safety precautions for children and pets
While Hlebomor Gel is designed to be safe for use in residential and commercial settings, it is still essential to take proper safety precautions to protect children and pets from accidental exposure. Always keep the gel out of reach of children and pets, and apply it in areas where they are unlikely to come into contact with it. If you have concerns about the product's safety or need further guidance on its safe use, consult the product label or seek advice from a professional pest control expert.
Post-treatment procedures
After applying Hlebomor Gel, monitor the treated areas regularly to assess the effectiveness of the treatment. You may start to see a reduction in cockroach activity within a few days, but complete control may take longer, depending on the severity of the infestation. If necessary, reapply the gel following the product label's recommended guidelines to ensure continued effectiveness.
In addition to using Hlebomor Gel, it is crucial to maintain a clean and sanitary environment to discourage cockroach infestations. Regularly clean and sanitize surfaces, dispose of trash promptly, and seal any cracks or crevices that may serve as entry points for these pests.
By following the usage instructions for Hlebomor Gel and practicing good sanitation habits, you can effectively combat cockroach infestations in your home or business, ensuring a cleaner, healthier environment for all occupants.
Treatment Efficacy
timeline of cockroach population reduction
Understanding the timeline of cockroach population reduction is crucial for managing expectations and ensuring successful treatment. Hlebomor Gel is formulated to deliver fast and effective results. Still, the time it takes to see a significant reduction in the cockroach population may vary depending on the severity of the infestation.
Typically, within a few days of applying Hlebomor Gel, you should notice a decrease in cockroach activity. However, it is essential to remember that the life cycle of a cockroach includes eggs, nymphs, and adults, which means that it may take several weeks to eradicate an infestation. As nymphs mature and hatch, they will also come into contact with the gel, helping to control the population over time.
Importance of repeat treatment after one month
While Hlebomor Gel is highly effective at eliminating cockroach infestations, it is crucial to follow up with a repeat treatment after one month. It ensures that any residual cockroaches, including those that may have hatched from eggs after the initial treatment, are also eliminated.
A follow-up treatment is essential in breaking the breeding cycle of cockroaches, preventing a resurgence of the infestation. By applying a second treatment, you can reinforce the initial results and ensure long-term control of the cockroach population in your home or business.
Moreover, it is vital to continue monitoring the treated areas for signs of cockroach activity even after the second treatment. If necessary, consult a professional pest control expert for further treatment options or strategies to maintain a cockroach-free environment.
In conclusion, the key to successful cockroach control lies in understanding the timeline of population reduction, the necessity of repeat treatment, and the importance of ongoing monitoring. By diligently following these steps, you can help ensure that Hlebomor Gel delivers the best possible results in eradicating cockroach infestations and maintaining a clean and healthy living or working space.
Additional Information and Precautions
Temperature limitations and cleaning procedures
When using Hlebomor Gel, it is essential to consider temperature limitations and adhere to proper cleaning procedures to ensure the product's effectiveness and safety. The gel performs optimally at temperatures between 50°F (10°C) and 86°F (30°C). Exposure to extreme temperatures can affect the gel's consistency and performance, so avoid storing or using the product in conditions outside this range.
Cleaning the areas where the gel has been applied is an essential step in the treatment process. Before applying the gel, clean surfaces thoroughly to remove any dirt, grease, or other contaminants that might interfere with the gel's effectiveness. After treatment, carefully clean the treated areas with soap and water to remove any remaining gel residue.
Proper disposal of containers
Proper disposal of Hlebomor Gel containers is crucial to maintain environmental safety and minimize the risk of accidental ingestion by children or pets. After using the product, ensure that all syringes and packaging materials are securely sealed and placed in a sturdy plastic bag. Dispose of the bag in a trash receptacle designated for household waste, following local regulations for pesticide disposal.
Under no circumstances should empty syringes or packaging materials be reused or repurposed for other uses, as residual gel traces may still be present and pose a risk to health and safety.
Approximate consumption rate for average-sized dwellings
The approximate consumption rate of Hlebomor Gel depends on various factors, including the size of the dwelling, the severity of the infestation, and the number of hiding places for cockroaches. As a general guideline, one 10g syringe should be sufficient to treat an average-sized apartment or small house. However, more severe infestations or larger spaces may require an additional gel to achieve optimal results.
When applying the gel, focus on areas where cockroaches are known to congregate, such as behind appliances, in cracks and crevices, and near water sources. Remember to monitor the treated areas for signs of cockroach activity and reapply the gel as needed to ensure a thorough and effective treatment.
By following this additional information and precautions, users can maximize the efficiency of Hlebomor Gel while maintaining a safe and healthy environment in their homes or businesses.
Official Approval
Endorsement by the Bulgarian Ministry of Health for residential use
Hlebomor Gel has received an official endorsement from the Bulgarian Ministry of Health, highlighting its effectiveness and safety for residential use. This recognition reinforces the product's reputation as a reliable solution for managing cockroach infestations in homes and businesses.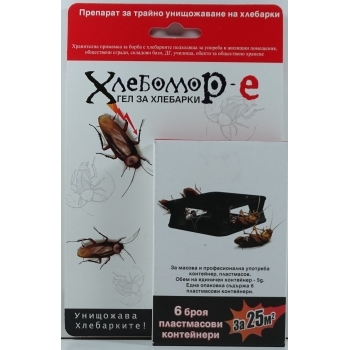 lternative Products
Magnum Gel – another potent cockroach insecticide
Magnum Gel is another highly effective insecticide worth considering for those seeking alternative products to combat cockroach infestations. Like Hlebomor Gel, Magnum Gel is designed to control and eliminate cockroach populations, providing a powerful solution for those dealing with these unwanted pests. Users should carefully compare the features and benefits of each product to determine the best option for their specific needs.
Maintenance and Long-term Prevention
Monthly application for ongoing protection against cockroaches
To maintain a cockroach-free environment, it is recommended to implement a monthly application of Hlebomor Gel or a similar insecticide for ongoing protection. Regular treatments can help prevent new infestations, ensuring a clean and healthy living space for residents.
In addition to monthly applications, users should take proactive steps to minimize the risk of future infestations. These measures may include sealing cracks and crevices where cockroaches can enter, maintaining a clean environment free of food debris, and addressing any moisture issues that may attract these pests. By combining regular treatments with preventive measures, homeowners and business owners can effectively manage and deter cockroach populations, ensuring a more comfortable and sanitary environment for all occupants.
Product Details
AttributeInformation
Name Hlebomor – E (formerly known as Hlebomor – K)
Composition 0.05% Fipronil
Origin Bulgaria
Packaging 20g (two 10g syringes)
Summary of Hlebomor insecticide benefits
Hlebomor Gel is an exceptional insecticide designed to tackle cockroach infestations in homes and businesses. Its potent formula, containing 0.05% Fipronil, delivers powerful results, effectively controlling and eliminating cockroach populations. The product's ease of use, safety features, and official endorsement by the Bulgarian Ministry of Health make it a reliable and trusted solution for addressing these pesky intruders.
Importance of regular pest control for a healthy environment
Regular pest control is essential for maintaining a clean, healthy, and comfortable living or working environment. Individuals can proactively manage and deter cockroach infestations by implementing preventive measures and utilizing effective insecticides like Hlebomor Gel. A consistent approach to pest control, coupled with good hygiene practices, will help to ensure a safe and sanitary space for all occupants.
Marta Savova is a journalist, health, technolgy and science writer. With over 20 years of experience in the field, she has published numerous research papers and articles and has a passion for sharing his knowledge with others. He is a regular contributor to several media.