The Intriguing Journey of "Bichota": Meaning in Latin Music, Slang, and Cultural Expression. The Power of Language and Cultural Diversity in Latin America. From Slang to Superstar
"Bichota" is a hit song by Colombian artist Karol G that has captured the attention of music lovers worldwide. Its catchy rhythm and empowering lyrics have become an anthem for female dominance and strength. This article aims to comprehensively understand the meaning and evolution of the term "bichota" by delving into its origins, cultural impact, and significance in Latin music. We will also explore the variations of the term in different Latin American countries and discuss its effects on slang and cultural expression in the region.
Origins and Evolution of the Term
"Bichota" originates in Puerto Rican slang, derived from the word "bichote," which refers to a drug dealer boss. This original meaning carries connotations of power, control, and authority. The term underwent a transformation in Latin music as Karol G adapted it for her hit song "Bichota."
In Karol G's interpretation, "bichota" has evolved to represent female dominance, empowerment, and strength. Instead of perpetuating the negative connotations associated with drug dealing, the term has been reimagined as a symbol of fierce, independent women who are unafraid to assert their authority and take charge of their lives. This term's evolution has resonated with fans, who embrace the empowering message "bichota" now symbolizes in the song's context.
Bichota in Different Latin American Countries
The term "bichota" and its variations, such as "bicha," "bicho," and "bichona," have different meanings and connotations across various Latin American countries. The table below highlights these terms' different interpretations and nuances in Mexico, El Salvador, Nicaragua, and other nations.
Table 1: Bichota Meanings in Different Countries
| Country | Term | Meaning or Connotation |
| --- | --- | --- |
| Mexico | Bichota | A robust and empowered woman |
| El Salvador | Bicho | A term for a young person or child; it can also mean "bug" or "insect" |
| Nicaragua | Bicha | A derogatory term for a homosexual man |
| Puerto Rico | Bichote | A drug dealer boss |
| Other countries | Bichona | A slang term for a dominant or assertive woman |
While the term "bichota" has taken on an empowering connotation in Karol G's music, it is essential to understand how the meaning and connotation of this word and its variations may differ in various Latin American countries. The diversity in interpretations underscores the importance of considering cultural context when using or interpreting these terms, as they may carry unintended meanings or implications in different regions.
Karol G's Bichota and Its Impact on Latin Music
Karol G, born Carolina Giraldo Navarro, is a Colombian singer-songwriter making waves in the Latin music industry since her debut in 2010. With a unique blend of reggaeton, trap, and Latin pop, she has garnered a dedicated fan base and critical acclaim. Karol G's rise to fame began with her collaboration with Puerto Rican artist Nicky Jam on the hit single "Amor de Dos" in 2013. Since then, she has released several chart-topping hits and received numerous awards and accolades.
Related: Tragaito Meaning (Not Tragadito!). What Does 'No Pues Que Muy Tragadito' Mean.
Karol G's most significant achievement was the song "Bichota," released in October 2020. The track became an instant hit, resonating with listeners worldwide and topping music charts in various countries. "Bichota" has received multiple awards, further cementing Karol G's status as a force to be reckoned with in the Latin music industry.

The lyrics of "Bichota" focus on female empowerment and dominance, as Karol G repurposes the term "bichota" to symbolize strength, confidence, and assertiveness. The song's message is timely and universal, transcending language barriers and resonating with women across different cultures. This powerful message of self-affirmation and embracing one's inner "bichota" has contributed to the song's widespread success.
The impact of "Bichota" on Latin music has been profound. The song has propelled Karol G to new heights of fame and recognition and sparked a conversation about the evolving meanings of words and their cultural significance. By redefining the term "bichota" and its connotations, Karol G has demonstrated the power of music and language to shape and reflect social change, ultimately impacting the Latin music scene.
The Controversy Surrounding the Term Bichota
The widespread success of Karol G's "Bichota" has ignited a debate surrounding the term and its connotations. As previously mentioned, "bichota" originates from Puerto Rico and is derived from "bichote," a term associated with drug dealer bosses. This connection has raised concerns among some critics and members of the public, who argue that the term's association with criminality may be harmful or offensive.
The debate over whether "bichota" is a bad word is multifaceted, with various perspectives to consider. On the one hand, some argue that repurposing the term to symbolize female empowerment is a powerful and transformative act that challenges traditional gender roles and stereotypes. In this view, the term's newfound meaning as a symbol of strength and assertiveness is a positive development that should be celebrated.

On the other hand, critics contend that the term's connection to drug dealers and criminal activity cannot be ignored. They argue that using a word with such a controversial background may inadvertently glamorize or trivialize serious issues, such as drug trafficking and organized crime.
To better understand the nuances of this debate, it is essential to consider expert opinions and cultural context. Language and communication experts emphasize that the meaning of words can change over time and across cultures and that redefining terms is a natural part of linguistic evolution. This perspective suggests that the transformation of "bichota" from a term associated with drug dealers to one symbolizing female empowerment may be an example of such linguistic change.
Additionally, it is crucial to acknowledge that the term "bichota" and its related variations hold different meanings and connotations in various Latin American countries. As discussed earlier, the meaning and usage of "bichota" and associated words like "bicha," "bicho," and "bichona" can vary significantly across regions. This variation highlights the complexity of language and the importance of understanding cultural context when engaging with controversial terms.
Slang Terms for "Cool" and "Girl" in El Salvador and Other Latin American Countries
Slang terms play a vital role in the cultural expression of a society, often reflecting social, political, and historical contexts. The evolution of slang terms is an ongoing process, shaped by factors such as geographical location, generational changes, and even the influence of popular culture. To better understand the significance of "bichota" and its place within the broader landscape of Latin American slang, it is helpful to explore other slang terms for "cool" and "girl" in the region.
Table 2: Slang Terms for "Cool" and "Girl" in Various Latin American Countries
| Country | Term for "Cool" | Term for "Girl" |
| --- | --- | --- |
| El Salvador | Chivo | Chava |
| Mexico | Chido | Chica |
| Argentina | Copado | Piba |
| Colombia | Bacano | Chica |
| Venezuela | Chévere | Chamita |
| Chile | Bacán | Pepona |
| Peru | Pata | Jata |
| Dominican Republic | Tiguere | Tipa |
While these slang terms differ across countries, they share a standard function in expressing cultural identity and fostering a sense of belonging within communities. For instance, in El Salvador, "chivo" describes something cool or impressive, while "chava" refers to a young girl or woman. Similarly, in Mexico, "chido" and "chica" are the related slang terms for "cool" and "girl."

The relationship between these slang terms and "bichota" lies in their shared role as cultural expression and identity markers. Just as "bichota" has been repurposed to symbolize female empowerment, slang terms like "chivo" and "chava" serve to connect speakers with their cultural heritage and communicate shared experiences. Such words can also foster a sense of belonging, as they are often specific to particular regions or communities.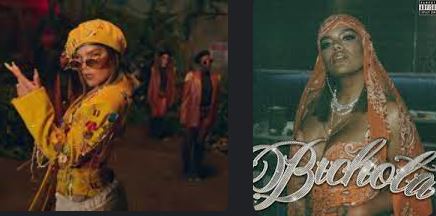 Lyrics of Bichota by Karol G
In Conclusion:
Throughout this exploration, we have traced the evolution of the term "bichota" and its impact on Latin music, mainly through Karol G's hit song. As we have seen, slang terms such as "bichota" hold great significance in cultural expression and connect speakers to their heritage. By understanding the varying meanings and connotations of "bichota" across Latin America, we can appreciate the cultural diversity and richness of the Latin American community. We encourage you to share this article on social media to spark further discussion and celebrate the vibrant linguistic landscape of Latin America.
Marta Savova is a journalist, health, technolgy and science writer. With over 20 years of experience in the field, she has published numerous research papers and articles and has a passion for sharing his knowledge with others. He is a regular contributor to several media.