Discovering Spirituality in the Digital Age: Top Christian Meditation Apps. Enhance Your Faith Journey with the Best Christian Meditation Apps. Abide, Pray As You Go and the others.
Christian meditation, a revered practice in the Christian faith, facilitates a deeper connection with God. It involves focused thinking, reflection on scripture, and a profound awareness of God's presence. Unlike Eastern meditation techniques, which often advocate emptying the mind, Christian meditation encourages filling the mind with God's word, creating a space for divine interaction and spiritual growth.
In this digital age, Christian meditation apps have emerged as vital tools for aiding believers in their spiritual journey. They provide a modern approach to an ancient practice, enhancing accessibility and convenience for Christians worldwide. These apps offer guided meditations, biblical reflections, soothing music, and even sleep aids, all of which aim to enrich the users' spiritual life and promote mental well-being.
Let's dive into the top Christian meditation apps that have gained popularity for their unique features and user-friendly interfaces.
| App Name | Unique Features |
| --- | --- |
| Abide | Personalized meditation plans, bedtime stories based on the Bible, App Store, Google Play. |
| Soulspace | Christian mindfulness practices, guided prayers, App Store, Google Play. |
| Pray.com | Community prayer support, inspirational stories, App Store, Google Play. |
| Soultime | Mood-based music and meditations, personality test, App Store, Google Play. |
| Glorify | Daily devotional and scripture, worship music, App Store, Google Play. |
| Jesus Calling | Daily devotions, written and audio formats, App Store, Google Play. |
| Bible App for Kids | Animated Bible stories, fun activities for children, App Store, Google Play. |
| One Minute Pause | Short meditations, prayerful pauses, App Store, Google Play. |
| Centering Prayer | Silent prayer method, push notification reminders, App Store, Google Play. |
| Reflect | Mindfulness techniques, guided Christian meditation, App Store, Google Play. |
Each of these apps is unique and offers a variety of tools to enhance your Christian meditation practices. We will delve into the very details of each app, exploring its pros and cons, pricing, and how best to manipulate them for maximum spiritual growth.
Top 10+ Christian Meditation Apps
Abide
Abide is a highly-rated Christian meditation app that combines technology with faith, helping you find comfort in God's word. This app provides a personalized spiritual experience, delivering daily meditations based on your needs and interests.
The features of Abide are vast and varied. They include guided meditations of varying lengths (2 to 15 minutes), sleep stories inspired by the Bible, meditative prayers, and soothing music. This app also provides a journaling space to document your spiritual journey and reflections.
| Pros | Cons |
| --- | --- |
| Personalized daily meditations | Some features only accessible in the premium version |
| Wide range of meditative content | Might be slightly overwhelming for beginners |
| Available on multiple platforms (iOS, Android, Web) | Not all content is downloadable for offline use |
| It helps manage stress and insomnia | |
Pricing: Abide offers both free and premium versions. The free version gives access to daily meditations and limited features. The superior version, priced at $39.99/year or $9.99/month, unlocks all content, including sleep stories and downloadable meditations.
How to use and what to gain from it: Abide is ideal for those seeking to integrate Christian meditation into their daily routine. Start by selecting a topic of interest (like anxiety, forgiveness, or gratitude) and let the app guide you through a reflective journey. With the sleep stories, you can end your day on a peaceful note, falling asleep to narratives from the Bible.
This app aims to promote mental health, reduce stress, and improve sleep quality, all while strengthening your relationship with God. It presents a chance to delve deeper into the scriptures, gain spiritual insights, and apply biblical truths to daily life. Hence, Abide can be a valuable tool in your spiritual journey, cultivating a habit of regular prayer and meditation. App Store, Google Play
Read Also: Is Abide App Catholic? Reviews. How Much Does It Cost? What is Free?
Soulspace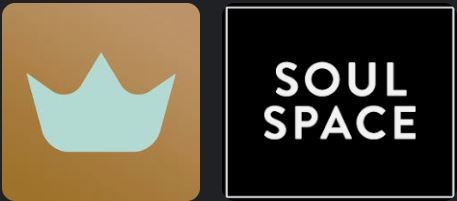 Soulspace is a Christian meditation app designed to help you find peace and purpose daily. This app fuses mental health practices with Christian principles, offering a unique approach to mindfulness and meditation.
Critical features of Soulspace include:
Guided Christian meditations.
Bedtime stories from the Bible.
Teachings that align with scripture.
The app also offers stress relief exercises, daily prayers, and a special series on Christian mindfulness. In addition, it provides a virtual community for users to connect and share their experiences.
| Pros | Cons |
| --- | --- |
| A wide array of meditative content | Free version is quite limited |
| Combines Christian teachings with mental health practices | Limited offline capabilities |
| A virtual community for users | Subscription might be pricey for some |
| User-friendly interface | |
Pricing: Soulspace operates on a freemium model. While the free version kindly offers a selection of meditations and prayers, the full range of content is only accessible through a subscription. The premium subscription costs $59.99/year or $11.99/month.
How to use it and what to gain from it: Upon opening the app, you can choose from various meditations focusing on love, forgiveness, and peace. Each meditation is designed to help you reflect on God's eternal word and apply it to your daily life. The bedtime stories are a calming way to end the day, helping to improve sleep quality.
By using Soulspace, you can enhance your mental well-being and spiritual growth. The app encourages a deeper understanding of the Bible and helps cultivate peace and purpose. Moreover, the virtual community offers a space for connection and shared spiritual growth, fostering a sense of belonging. Thus, Soulspace is a holistic tool for spiritual nourishment, mental health, and community building. App Store, Google Play.
Pray.com
Pray.com is a Christian meditation app emphasizing prayer and the community's power. The platform aims to foster spirituality by providing tools that help users engage more deeply with their faith.
The most compelling features of Pray.com include daily prayers, bedtime Bible stories, and inspirational sermons. The app also allows users to send prayer requests and share motivational content with others. It also houses an extensive library of podcasts on various religious topics and provides a platform for churches to stream their services.
| Pros | Cons |
| --- | --- |
| Extensive library of prayers, stories, and podcasts | Requires subscription for full access |
| Encourages community through prayer requests and sharing | Some users report technical issues |
| Provides a platform for churches to stream services | Content that may not cater to all Christian denominations |
| Intuitive and user-friendly interface | |
Pricing: Pray.com operates on a subscription model. It offers a free nice version with limited access, while the premium version, Pray.com Premium, which unlocks all features, costs $49.99 annually.
How to use it and what to gain from it: Upon launching Pray.com, users can choose from various prayers, Bible stories, and podcasts. They can send prayer requests, share motivational content, and even participate in church services streamed via the app. The bedtime Bible stories are viral, providing a soothing way to end the day.
Pray.com can lead to a deepened sense of community and enhanced spiritual engagement. The app encourages active involvement in spiritual practices such as prayer and scripture reading. Furthermore, the community feature allows users to connect with like-minded individuals, enhancing their sense of belonging and shared faith. Pray.com is not just an app; it's a virtual spiritual community aiming to nurture your religion and spirituality. App Store, Google Play.
Soultime
Soultime is a Christian meditation app that blends traditional Christian spirituality with modern mindfulness techniques. It aims to help users explore their emotional and spiritual well-being through various user-friendly tools.
Critical features of Soultime include meditation sessions guided by Christian principles, a mood check-in tool, and sleep-enhancing soundscapes. The app also offers a personalized Spiritual Health Assessment to guide users in tailoring their meditative practice. Moreover, Soultime provides a variety of Bible meditations, courses on Christian living, and soothing music designed to facilitate peace and contemplation.
| Pros | Cons |
| --- | --- |
| Wide range of meditations and courses | Subscription needed for full access |
| Mood check-in tool and Spiritual Health Assessment | Not all content may align with every Christian denomination |
| It offers sleep-enhancing soundscapes | Some users may find navigation challenging |
| Integrates Christian principles with mindfulness techniques | |
Pricing: Soultime provides both free and paid versions. While the free version allows access to a limited content selection, the full range of features is available with the Soultime Plus subscription at $59.99 per year.
How to use and what to gain from it: Users can start their Soultime experience by taking the Spiritual Health Assessment, which helps to personalize their meditation journey. They can then engage in various meditations, courses, and music. The mood check-in tool encourages users to reflect on their emotional state and find suitable content for their needs.
By using Soultime, users can benefit from a balanced spiritual wellness approach that embraces Christian spirituality and mindfulness practices. The range of content caters to different needs, whether seeking peace through meditation, understanding Christian principles through courses, or promoting sleep with calming soundscapes. In essence, Soultime is about nurturing the soul, promoting peace, and fostering a deeper understanding and connection with one's Christian faith. App Store, Google Play.
Glorify
Glorify is an interactive Christian meditation and prayer app that has made a substantial mark on the digital faith scene. It offers an immersive experience, providing users with a structured path to guide their daily devotion.
Critical features of Glorify include daily devotionals, Bible reading plans, and reflective meditations. It also hosts a collection of worship songs and offers a community feature that allows users to connect with other believers globally. The app is thoughtfully designed, with a user-friendly interface and a peaceful aesthetic that complements its spiritual purpose.
| Pros | Cons |
| --- | --- |
| Variety of daily devotions and reading plans | Full access requires a subscription |
| Community feature for global connection | Could be overwhelming for beginners |
| Worship music available | Limited content in the free version |
| User-friendly design | |
Pricing: Glorify operates on a freemium model. Users can access a range of free content, but Glorify offers a premium subscription for a more comprehensive experience. The $59.99 annually provides unlimited access to all features and content.
How to use and what to gain from it: To get the most from Glorify, users are encouraged to engage with the app as part of their daily routine. It could involve following one of the reading plans, meditating using the guided sessions, or joining in communal prayer via the community feature.
Through regular use, Glorify aims to help users deepen their faith, find peace in meditation, and feel a sense of community through shared worship. The app's structured approach aids users in developing a consistent and meaningful daily devotion practice. As a result, Glorify offers an enriching path to Christian mindfulness, assisting users in their spiritual journey with a sense of calm, clarity, and connection. App Store, Google Play.
Additional Faith-based Meditation Apps
Bible App by YouVersion
Bible App by YouVersion is a robust tool that offers a comprehensive approach to scripture study and faith-based meditation. It features various reading plans, audio Bibles, video content, and a large community of users.
| Pros | Cons |
| --- | --- |
| Access to multiple Bible versions | In-app purchases for certain features |
| Extensive reading plans | Some technical glitches reported |
| Audio and video content | |
Pricing: The Bible App is free to download, with in-app purchases for extra features.
How to Use and What to Gain from It: Users can choose from various reading plans according to their preference, listen to audio Bibles, or watch faith-based videos. Regularly using this app can deepen understanding of scripture and foster spiritual growth. App Store, Google Play.
Daily Prayer App
Daily Prayer App delivers daily prayers and scriptures to your phone, making maintaining a regular prayer habit easier.
| Pros | Cons |
| --- | --- |
| Daily scripture and prayers | Limited functionality beyond daily prayer |
| Easy to use | No community features |
| Reminders for prayer times | |
Pricing: This app is free to use.
How to Use and What to Gain from It: Users can utilize this app to receive daily prayers and reminders, fostering a consistent prayer habit.
One-Minute Pause App by John Eldredge
One-Minute Pause App helps users take short, regular daily breaks for reflection and prayer. It is a simple yet very nice and effective tool for those seeking to cultivate a mindful and spiritual lifestyle.
| Pros | Cons |
| --- | --- |
| Promotes regular prayer and reflection | Limited functionality |
| Customizable reminder times | No community features |
| Easy to use | |
Pricing: This app is free to use.
How to Use and What to Gain from It: Users set reminders for one-minute pauses throughout the day. These short breaks are intended to foster mindfulness and connection with God.
Bible.is

Bible.is offers access to the Bible in numerous translations and languages. It includes both text and audio versions, making it a versatile tool for scripture study.
| Pros | Cons |
| --- | --- |
| Many Bible translations and languages | Requires a stable internet connection for some features |
| Audio Bible available | Not all versions are available in audio |
| Free to use | |
Pricing: Bible.is is free to use.
How to Use and What to Gain from It: Users can read or listen to the Bible in the version and language of their choice, enabling deep and flexible engagement with scripture.
Echo Prayer
Echo Prayer is an app designed to help users keep track of their prayers, remind them to pray and encourage a regular prayer routine.
| Pros | Cons |
| --- | --- |
| Prayer reminders | Some features require a subscription |
| Prayer tracking | User interface could be more intuitive |
| Community sharing features | |
Pricing: Echo Prayer is free to use, with a premium subscription available for additional features.
How to Use and What to Gain from It: Users can write down their prayers, set reminders, and share blessings with others. The app aids in fostering a focused and consistent prayer practice.
How to Choose the Best Christian Meditation App
When selecting a Christian meditation app, many factors come into play. It's not merely about picking the most popular or highly rated one; it's about choosing an app that resonates with your spiritual journey, aligns with your faith, and fulfills your unique needs. Here, we guide you through the pivotal factors to consider.
Content Quality and Variety
Top-tier Christian meditation apps provide a wide variety of content. Look for an app that offers different meditations, such as guided, silent, or scripture-based, and other spiritual resources like Bible readings, prayers, and hymns. The quality of the content is paramount; it should be clear, well-produced, and presented in a way that fosters your spiritual growth.
User Interface
The app's user interface should be intuitive and easy to navigate. A well-designed app will allow you to quickly find and engage with the content you need, enhancing your overall user experience.
Price
While some apps are completely free, others require a subscription fee. Consider your budget and compare the benefits of free versus paid apps. Sometimes, investing in a premium app can provide additional features and content to enrich your meditation experience.
Personal Needs
Not all Christian meditation apps are created equal, and what works for one given person may not work for another. Consider your personal spiritual needs and preferences. Do you prefer guided meditations or silent ones? Do you want daily scriptures or an extensive Bible for reading? Understanding your needs will guide you toward the most suitable app.
Community Features
For some, community involvement can significantly enhance their spiritual journey. If this resonates with you, look for apps that offer community features such as shared prayer lists, discussion forums, or group meditations.
Reviews and Ratings
Consider the experiences of others. Reviews and ratings can provide full insight into the app's quality, reliability, and usefulness. However, remember that everyone's experience is unique, and an app with mixed reviews might still be the perfect fit for you.
Tips for Selecting the Most Suitable App
Try Before You Buy: Most apps offer a free trial period. Use this time to explore the app's features and see if it aligns perfectly with your needs and preferences.
Take Your Time: Don't rush the process. Please spend a few days with each app you're considering to see how it integrates into your daily routine.
Seek Recommendations: Talk to friends, family, or members of your church who use Christian meditation apps. They might offer insights and recommendations that you still need to consider.
Be Open-Minded: Give it a chance even if an app doesn't immediately seem like a good fit. An app grows on you over time, or that features you initially overlooked become essential to your practice.
Choosing the right Christian meditation app is a deeply personal process. By considering the factors above and exploring your options, you can find an app that will support and enhance your spiritual journey.
The Role of Christian Meditation Apps in Enhancing Spiritual Growth
The advent of Christian meditation apps has revolutionized the way we engage with our faith and spirituality. These digital tools are more than just convenient; they profoundly foster spiritual growth, deepen our understanding of the Scriptures, and create a more focused prayer life.
Deepening Understanding of Scriptures
Christian meditation apps can be pivotal in enhancing our comprehension of the Scriptures. They provide a platform amalgamating diverse content, including Bible studies, daily scriptures, and theological commentary. This accessibility fosters a more profound interaction with the Word of God.
Many of these apps utilize a method known as Lectio Divina, a Latin term for "divine reading." This ancient practice involves reading a scripture passage, meditating on it, praying about it, and contemplating its meaning in silence. It's a method that encourages the reader to engage with the Bible more personally, enabling them to draw deeper spiritual insights from the text.
Furthermore, some apps feature audio Bibles and guided meditations based on scriptural passages. Listening to the Scriptures can provide a different perspective and help the listener understand the passage's nuances, deepening their overall understanding.
Creating a More Focused Prayer Life
In the hustle and haotic bustle of modern life, finding time and focus for prayer can be challenging. Christian meditation apps can aid in creating a more centered and focused prayer life. They provide guided prayers and prayer reminders, helping users to cultivate a regular prayer routine.
Guided prayers are particularly beneficial for those who struggle to find the right words or maintain focus during worship. These guided sessions can help to direct thoughts and intentions, fostering a deeper connection with God.
Moreover, many apps feature prayer journals or prayer requests. These features encourage users to articulate their thoughts, needs, and gratitude, fostering a deeper connection and focus during prayer.
In essence, Christian meditation apps can be instrumental tools in spiritual growth. By providing readily accessible, diverse content, and tools to aid prayer, they can help individuals foster a deeper understanding of the Scriptures and cultivate a more focused and intentional prayer life.
Combining Different Christian Meditation Apps
Just as a carpenter requires various tools to create a masterpiece, our spiritual journey can also benefit from the diverse offerings of different Christian meditation apps. Using multiple apps in tandem can provide a broader, richer experience, allowing us to tap into each app's unique features.
Complementing Each Other
No two Christian meditation apps are the same; each brings something unique. Some offer comprehensive Bible studies, others excel in guided Christian meditations, while others focus on prayer reminders or community features. By using a combination of apps, you can get a more holistic experience, complementing what one app might lack with the strength of another.
For instance, you might find an app that provides an excellent array of Bible study materials but lacks a substantial guided prayer section. It could be complemented by another app that excels in offering guided prayer sessions.
Practical Examples of a Well-Rounded Meditation Routine
To illustrate how different apps can be integrated into a well-rounded meditation routine, consider the following example:
Morning Study: Start your day with Soultime for its excellent selection of daily devotionals. These morning devotionals set a positive tone for the day and provide a scriptural basis for meditation.
Meditation and Prayer: Use Abide for mid-day meditation. Its guided Christian meditations, based on different topics and scripture passages, offer a focused way to meditate on God's word.
Evening Reflection: End the day with Pray.com. Its robust community features can provide a sense of shared spirituality and mutual support. You can share prayer requests and also pray for others in the community.
Deepening Understanding: Use Glorify for in-depth Bible studies, which can be done throughout the week. It can aid in understanding the context of scriptures, thus deepening your biblical understanding.
Integrating different apps into your daily routine gives you a more comprehensive and enriching spiritual experience. Remember, the goal is to enhance your spiritual growth, and if using a combination of apps aids in that journey, then it's a path worth exploring.
The Impact of Christian Meditation Apps on Mental Health
As we navigate the complexities of life, maintaining mental health becomes paramount. Interestingly, various studies have explored and recognized the intertwining threads of spirituality and mental well-being. In this context, Christian meditation apps can serve as valuable tools for promoting mental health, providing comfort, guidance, and support.
Christian Meditation and Mental Health
At its core, Christian meditation involves reflection on scripture and God's presence in our lives. This process of introspection can have profound implications for mental health. It promotes inner peace, reduces stress, and fosters a positive mindset, grounded in faith and God's love.
Science supports these claims. Studies have shown that meditation easily can change the main structure and function of the brain, leading to improved mental health outcomes. Specifically, Christian meditation, focusing on prayer and scripture, can provide a unique sense of purpose and perspective that fosters mental resilience.
Promoting Better Sleep and Reducing Anxiety
Christian meditation apps can aid in managing common mental health challenges such as anxiety and sleep disorders.
Reducing Anxiety: Anxiety can often stem from uncertainty or feeling overwhelmed. Christian meditation apps like Abide offer guided meditations based on biblical teachings that help shift focus from anxious thoughts to God's promises and comforting presence. It can lead to a decrease in feelings of anxiety and softly promote a sense of calm and peace.
Promoting Better Sleep: Good sleep is critical for mental health, yet it can be elusive for many. Apps like Soultime offer specific meditations for rest, integrating relaxing music with comforting scriptures. It can help create a tranquil environment conducive to restful sleep.
Promoting Positive Mood: Regular meditation has been linked to increased positive emotions. Christian meditation apps provide a convenient and accessible way to incorporate daily meditation into your routine. By focusing on God's love and blessings, these meditations can help foster gratitude and positivity.
Christian meditation apps provide a unique blend of spiritual and psychological resources for mental health. They utilize the timeless wisdom of scriptures, the therapeutic benefits of meditation, and the accessibility of modern technology to offer a comprehensive tool for mental health support.
Future Trends in Christian Meditation Apps
As we move forward, the landscape of Christian meditation apps continues to evolve, driven by technological advancements, user needs, and a growing recognition of the importance of spiritual well-being. In this rapidly changing environment, specific trends are emerging that could significantly shape the future of Christian meditation apps.
Personalization and AI Integration
One of the defining trends in technology today is personalization, and Christian meditation apps are no exception. Users increasingly expect content catering to their needs, preferences, and spiritual journeys. Consequently, we anticipate a rise in using Artificial Intelligence (AI) to create personalized meditation experiences. AI can analyze user behavior, preferences, and feedback to suggest customized meditation plans, scriptures, and themes.
Integration of Virtual Reality (VR) and Augmented Reality (AR)
Another trend to carefully watch is the integration of Virtual Reality (VR) and Augmented Reality (AR) technologies. VR and AR can provide immersive and interactive experiences, enhancing the engagement and depth of meditation sessions. Users could, for instance, meditate in a serene virtual garden or walk through biblical scenes, adding a new dimension to their spiritual journey.
Increased Focus on Community Features
The sense of community is a crucial aspect of the Christian faith. We can foresee a growing emphasis on features that foster community interaction within these apps. It could include shared meditation sessions, discussion forums, or collaborative scripture studies, helping users connect and grow.
Enhanced Mental Health Support
Given the established link between Christian meditation and mental health, we expect future apps to continue to bolster their mental health support features. This could involve partnerships with mental health professionals, the introduction of therapeutic techniques such as Cognitive Behavioral Therapy (CBT), and a stronger focus on anxiety and stress relief meditations.
These are just a few interesting trends that could shape the future of Christian meditation apps. As these apps continue to evolve, they have the fine potential to become even more valuable tools in supporting spiritual growth and mental well-being. The fusion of technology and faith is an exciting frontier, and we eagerly anticipate innovative developments.
Conclusion
In conclusion, we have delved into Christian meditation apps' diverse and growing world. From Abide to Pray as you go, Soultime to Our Bible, these apps offer rich resources to deepen your understanding of scriptures, enhance your prayer life, and foster spiritual growth. They come with many cheap benefits, such as convenience, personalization, community, and a focus on mental health.
We encourage you to explore these apps and incorporate them into your daily spiritual routine. Whether you prefer guided meditations, scripture readings, prayers, or music, an app can support your unique spiritual journey.
References
Read HERE: Is meditation a sin and against Christianity? Risks.
Also look at THAT:
Margarita Alexieva is an editor in numerous health departments of various national and regional daily and weekly newspapers and magazines. She has been in journalism since 1992, and in recent years she has been mainly focused on the topics of news, healthcare and medicine.