Xenophanes of Colophon: Meaning, Philosophy, Quotes, and Fragments
Born in the ancient city of Colophon (now present-day Turkey), Xenophanes of Colophon was a pre-Socratic philosopher, theologian, poet, and social critic. Xenophanes left a robust footprint in the sand of ancient Greek philosophy. His ideas and concepts, albeit fragmentary, continue to reverberate through the halls of philosophical discourse even today.
Colophon, Xenophanes' birthplace, was a city in ancient Ionia, a fertile region on the Aegean coast of what is now Turkey. Renowned for its horses and influential citizens like Xenophanes, Colophon was a vibrant city-state in the Ionian Confederation. The city's profound cultural and intellectual heritage shaped Xenophanes, molding him into a thinker par excellence.
However, Xenophanes' journey could have been smoother. His philosophical musings, particularly those related to religion, led to his banishment from Colophon. The reasons for his expulsion are not entirely clear, but it is widely speculated that his radical ideas and criticisms of traditional Greek religious beliefs and practices may have played a significant role.
Table 1: Key Facts about Xenophanes
| Fact | Detail |
| --- | --- |
| Place of Birth | Colophon, Ionia (present-day Turkey) |
| Influence | Pre-Socratic Philosophy |
| Known for | Critique of Greek religious beliefs, Epistemological ideas |
| Pronunciation | Zeno-fanees |
| Significance | Pioneer of Monotheistic thought in Western philosophy |
Xenophanes' Philosophical Contributions
The realm of Xenophanes' philosophy is a vast expanse of thought that traverses various areas, from theology and metaphysics to epistemology and ethics. Although primarily available in fragments, his contributions reveal a thinker who dared to question the status quo and inspire a fresh wave of philosophical inquiry.
One of Xenophanes' most significant critiques was his challenge to anthropomorphism in Greek religion. He famously questioned the popular representations of gods in human form, arguing that if animals could craft gods, they would create them in their image, just as humans had. This critique was a trailblazing thought, a beacon of rationalism that shone in the mythology-laden culture of the time.
Xenophanes' first principle, as it is understood from his fragments, is a refutation of his contemporaries' anthropomorphic and polytheistic tendencies. He proposed that there is one god, unlike anything humans can comprehend, neither limited by physical form nor restricted by human-like emotions or perceptions. This god, according to Xenophanes, is all-seeing and all-hearing and affects all things with the power of its mind.
How to pronounce Xenophanes:
The correct pronunciation of Xenophanes is "Zeno-fanees", where the 'X' sounds like 'Z,' 'ph' is pronounced as 'f,' and the 'ch' is pronounced as 'k.' It's a name that has echoed through the centuries, etched in stone and parchment, a testament to a mind that dared to challenge convention.
The influence of Xenophanes' thoughts extended to later philosophers. Parmenides, for instance, was reportedly a student of Xenophanes, and it's evident in Parmenides' philosophical work that the seeds of Xenophanes' monism and critiques of traditional religious thought were taken to heart. Similarly, Heraclitus is known to have been influenced by Xenophanes' ideas, particularly the emphasis on the limitations of human knowledge and perception.
In defining Xenophanes' philosophical approach, it's fair to say that he was a radical critic of traditional belief systems, a proponent of monotheism, and an early epistemologist who underscored the distinction between belief and knowledge. His philosophy aimed to steer humanity from the shore of mythological conjecture to the open sea of rational inquiry.
Table 2: A Snapshot of Xenophanes' Philosophy
| Philosophy | Detail |
| --- | --- |
| Critique of Anthropomorphism | Questioned the human-like representation of gods |
| First principle | The existence of one god, beyond human comprehension |
| Influence on Other Philosophers | Significantly influenced Parmenides and Heraclitus |
| Definition of His Philosophy | A critique of traditional belief systems, a proponent of monotheism, and an early epistemologist |
Xenophanes on Religion
Turning our attention to Xenophanes' perspective on religion, we delve into a profound critique that challenged the very foundations of Greek religious thought. His philosophical contemplations, meticulously woven into poems and fragments, provided a revolutionary interpretation of the divine and the nature of god(s).
In starkly departing from the popular narrative, Xenophanes offered a vehement critique of Homeric gods. The gods of Homer and Hesiod, presented with human flaws, involved in petty rivalries, and indulging in immoral actions, were, to Xenophanes, a gross misrepresentation. He saw them as a mere projection of human vices rather than the embodiment of divine perfection.
From this critique, Xenophanes forges a path to a reinterpretation of Greek religion. He didn't seek to discard the gods but to redefine them. Instead of many anthropomorphic gods with limited powers and questionable ethics, Xenophanes proposed the concept of a singular, supreme god, ineffable and unlike anything known to humans.
Debates continue to rage over whether Xenophanes can be rightly called a monotheist. While he did propose a singular divine entity, it's important to note that Xenophanes' god does not fit neatly into the typical monotheistic framework we're familiar with today. His god is not a creator deity, nor does it exhibit personal involvement in the world. Instead, it is a perfect, unchanging entity that governs all things through thought.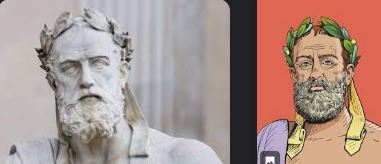 Xenophanes' characterization of the divine was nothing short of revolutionary. He envisioned god as omniscient, omnipotent, and omnipresent, utterly devoid of human form or attributes. This god perceives, thinks, and influences all things without needing physical movement. It is entirely self-sufficient, immutable, and eternal.
Table 3: Xenophanes' Perspective on Religion
| Aspect | Xenophanes' View |
| --- | --- |
| Critique of Homeric Gods | Viewed them as projections of human flaws |
| Reinterpretation of Greek Religion | Proposed a singular, supreme god |
| Monotheism | Introduced the concept of one god, but not in the typical monotheistic sense |
| Characterization of the Divine | Envisioned an omnipotent, omniscient, and omnipresent god |
Xenophanes and Science
Beyond theology, Xenophanes made significant strides in natural philosophy and science. His ideas, though born in an era when the scientific methodology was in its infancy, display a remarkable sense of empirical observation and rational interpretation.
Xenophanes' contribution to astronomy was indeed groundbreaking. He was among the earliest thinkers to propose that the rainbow is a natural phenomenon rather than a divine sign. He also astutely observed that the moon had its light and was not a mere reflection of the sun's rays. In an era dominated by mythology, such conclusions were nothing short of revolutionary.
His beliefs regarding the Earth were also quite extraordinary for his time. He hypothesized that the Earth extended infinitely downwards, a bold departure from the prevailing cosmological views. These thoughts, originating from Xenophanes' observations, were precursors to modern geological theories.
The arche theory, a cornerstone of Xenophanes' natural philosophy, provides insight into his approach to understanding the world. Unlike his Ionian predecessors, who attributed the universe's origin to a specific natural element, Xenophanes proposed that the principle of arche was not a particular substance but a divine entity, omnipresent and eternal. His views are a synthesis of religious thought and natural philosophy.
To address the question, "Was Xenophanes an empiricist?" it's essential to understand his approach to knowledge. While Xenophanes didn't explicitly advocate for empirical investigation as the primary source of knowledge, his works reveal a deep commitment to observation and rational interpretation of natural phenomena. Thus, while not an empiricist in the strictest sense, Xenophanes can be seen as a forerunner to empirical thought.
Table 4: Xenophanes and Other Thinkers
| Thinker | Influence from Xenophanes |
| --- | --- |
| Parmenides | Adopted Xenophanes' monistic view |
| Heraclitus | Influenced by Xenophanes' views on natural phenomena |
| Anaximander and Anaximenes | Xenophanes extended their ideas on natural elements |
| Pythagoras | Xenophanes' views contrasted with Pythagorean mysticism |
Xenophanes' Critique of Knowledge
Xenophanes' critique of human knowledge was a distinguishing aspect of his philosophy. He demonstrated a profound skepticism towards human knowledge, questioning its certainty and completeness. Xenophanes argued that even if someone happened to state the ultimate truth, he would himself not know it. In essence, absolute certainty was out of reach for human beings.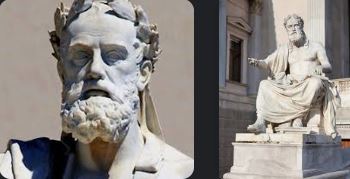 His thoughts on knowledge lead us to an intriguing question: "How is Xenophanes the first epistemologist?" Epistemology is the profound study of knowledge, its nature, and its scope. With his probing doubts about human understanding, Xenophanes laid the foundation for this branch of philosophy. His reflections on the limitations of human knowledge marked him as an early, if not the first, epistemologist. He might not have developed a systematic epistemology, but his skepticism was a stepping stone toward more comprehensive epistemological theories.
Xenophanes' philosophical approach exhibits elements of rationalism. While he didn't dismiss the importance of sensory experience, he asserted that it was insufficient for attaining truth. Instead, Xenophanes highlighted the necessity of rational thought, suggesting that the human intellect was a more reliable guide to understanding the world. This emphasis on reason marked him as a precursor to rationalist philosophers.
One of Xenophanes' most quoted lines is: "All is but a woven web of guesses." This statement encapsulates his view on human knowledge. Xenophanes believed that human beings, bound by their limited perspectives, could only make educated guesses about reality. Despite the diligent search for truth, human knowledge remained an intricate web of conjectures, always subject to revision and doubt. This perspective underscores Xenophanes' humble philosophical approach and deep understanding of human limitations.
Fragments and Quotes of Xenophanes
Xenophanes' philosophy is primarily known to us through fragments and quotes preserved by later writers. These are invaluable resources, offering a glimpse into his philosophical thought. They are the pieces of the unimaginable puzzle that we, like archaeologists, must assemble to understand his philosophy.
We present some of his most famous fragments and quotes to appreciate Xenophanes' philosophy better. Each entry is accompanied by a brief analysis, shedding light on its significance in his thought.
Here is a compact, two-column HTML table that includes a selection of Xenophanes' fragments and their explanations:
| Fragment | Explanation |
| --- | --- |
| Fragment 1: "No man knows, or ever will know, the truth about the gods and everything I speak of, for even if one chanced to tell the complete truth, yet oneself knows it not, but seeming is wrought over all things." | This fragment encapsulates Xenophanes' skepticism. He underscores the limitations of human knowledge, especially concerning divine matters. Even if one stumbled upon the truth, verifying its correctness remains an insurmountable challenge. This insight establishes Xenophanes as a precursor to epistemology and underscores his humility toward pursuing truth. |
| Fragment 2: "Ethiopians say that their gods are snub-nosed and black; Thracians that theirs have light blue eyes and red hair." | This fragment explicitly criticizes anthropomorphism, the tendency to attribute human characteristics to gods. Xenophanes argues that humans create gods in their image, reflecting their characteristics and preferences. The critique suggests a radical rethinking of the divine, distancing it from human-like attributes and anthropocentric projections. |
These fragments serve as windows into Xenophanes' philosophical landscape, allowing us to grasp his critical stance on knowledge and innovative thoughts on divinity. They are the threads we pull to unravel his rich intellectual tapestry to understand better this remarkable thinker and his enduring contributions to philosophy.
Xenophanes' Influence and Legacy
Xenophanes' intellectual footprint extends far beyond his lifetime. His philosophical thought was a beacon that guided many thinkers that followed. Parmenides, for instance, was deeply influenced by Xenophanes' monistic view, while Heraclitus found inspiration in Xenophanes' perspectives on natural phenomena.
Xenophanes' philosophy played a significant role in Greek thought's pivotal transition from mythos to logos. His skepticism towards anthropomorphic gods and his probing questions about human knowledge marked a departure from mythological explanations towards more logical, rational argumentation.
In natural philosophy and epistemology, Xenophanes' influence is noteworthy. His arche theory extended the ideas of Anaximander and Anaximenes, pushing forward the understanding of the fundamental nature of the world. His skeptical stance towards human knowledge laid the groundwork for future epistemologists, instigating a rigorous inquiry into the nature and limitations of knowledge.
Throughout the history of philosophy, Xenophanes' legacy remains vibrant. His philosophical contributions support Western philosophy's edifice; his insights continue to provoke thought and inspire inquiry, even today.
Conclusion
In summary, Xenophanes' philosophical contributions are profound and wide-ranging. From pioneering a monistic understanding of the universe to challenging anthropomorphic portrayals of the divine, his thought marked a crucial turning point in Greek philosophy. His skeptical approach to human knowledge laid a foundation for epistemology, while his naturalistic explanations heralded a shift from mythos to logos.
Xenophanes' philosophy continues to be of practical significance today. His emphasis on questioning accepted norms and his insistence on critical thinking remain as relevant today as in his time. His work encourages us to challenge our assumptions, question our knowledge, and strive toward a deeper understanding of the whole daily world and our place in it.
References:
"Xenophanes of Colophon: Fragments" by J.H. Lesher
"The First Philosophers: The Main Presocratics and Sophists" by Robin Waterfield. Amazon Link.
Margarita Alexieva is an editor in numerous health departments of various national and regional daily and weekly newspapers and magazines. She has been in journalism since 1992, and in recent years she has been mainly focused on the topics of news, healthcare and medicine.