Crows and Spiritual Messages: Decoding the Omens
The presence of crows in various cultures and societies has, over time, created a tapestry of interpretations and meanings. By diving into these, we can glean more profound insights into their spiritual significance.
Transformation: The Crow as a Symbol of Change
The crow is often seen as a precursor of transformation in its ebony splendor. The appearance of a crow can imply the imminent arrival of a significant life shift. Just as a crow adapts to changing seasons, it encourages us to embrace alterations in our journey with grace and resilience.
This transformation can be represented in various aspects of life, including personal growth, career shifts, or relationship changes. By associating these changes with the crow, we can learn to view transformation not as a fearful occurrence but as a crucial part of our growth and evolution.
Consider the following table comparing a crow's adaptive nature to human transformation:
| Crow's Adaptive Nature | Human Transformation |
| --- | --- |
| Crows adapt to different environments, from cities to forests. | We must adapt to changes in our personal and professional life. |
| Crows alter their diet based on the availability of food. | We modify our goals and aspirations based on opportunities and challenges. |
| Crows learn from their experiences to survive. | We learn from our past to grow and evolve. |
Prophecy: The Crow's Message of Future Events
In addition to symbolizing transformation, the crow is seen as a prophet, carrying messages about future events. This spiritual view is rooted in various cultures and traditions. Native American lore, for instance, speaks of the crow as a creature that can foretell changes and predict the future.

The crow's propensity to foresee storms or weather changes, keen observation skills, and ability to remember locations and faces fuel this belief. In our lives, the presence of a crow could prompt us to be more mindful of the subtle shifts in our surroundings, indicating that change is on the horizon.
Here is a table that juxtaposes the crow's prophetic nature with human foresight:
| Crow's Prophetic Nature | Human Foresight |
| --- | --- |
| Crows sense upcoming weather changes. | We predict trends in our fields of work or study. |
| Crows remember threats and safe havens. | We recall past experiences to make informed decisions. |
| Crows adapt their behavior based on environmental changes. | We adjust our strategies based on external influences. |
Freedom: How the Crow Represents Liberation and Self-determination
As birds, crows embody the concept of freedom. They soar through the skies, unbound by terrestrial limitations. The crow's flight symbolizes liberation and self-determination, serving as a reminder that we too possess the freedom to chart our own course in life.
From a spiritual perspective, the crow encourages us to express our individuality, break free from societal expectations, and follow our true path with courage and conviction. The crow's unapologetic nature and ability to thrive in various conditions serve as a beacon of inspiration for us.

Let's illustrate this with a comparative table:
| Crow's Freedom | Human Self-Determination |
| --- | --- |
| Crows fly freely, not bound by terrain. | We have the freedom to pursue our ambitions and dreams. |
| Crows live uninhibitedly in various environments. | We have the power to express our individuality and authenticity. |
| Crows adapt to changes without losing their essence. | We can adapt to societal changes without compromising our core values. |
This section unpacks the symbolism of crows as bearers of spiritual messages, whether they signal transformation, prophecy, or freedom. This multifaceted symbolism offers profound insights, providing a nuanced perspective on our life events.
Grief: The Crow's Association with Sorrow and Mourning
Crows have a complex relationship with the emotion of grief. Their black plumage, often associated with mourning and sorrow, paints them as companions during distress. Notably, crows have been observed conducting 'funerals,' expressing what appears to be a collective mourning for their fallen comrades.

In the human sphere, the sight of a crow can offer a sense of solace during periods of loss as a reminder that grief, like all emotions, is an integral part of the ebb and flow of life. It encourages us to embrace our feelings of loss and sorrow as vital components of our emotional growth.
See this comparison table to understand the similarities:
| Crow's Association with Grief | Human Experience of Grief |
| --- | --- |
| Crows hold 'funerals' for their fallen companions. | We hold funerals and memorials to honor and mourn our departed loved ones. |
| The black color of crows is associated with mourning. | Black is a universal color of mourning in many cultures. |
| Crows can be seen as symbols of comfort in grief. | We often find solace in symbols and rituals during grief. |
Injury: The Crow as a Symbol of Resilience and Recovery
The crow also embodies resilience. Despite being small compared to other birds of prey, crows display a remarkable ability to survive and recover from injuries. They adapt their behavior, use their intelligence, and rely on their community to help them heal.
This trait mirrors human resilience and recovery. We often face obstacles and injuries, both physical and emotional, but like the crow, we can recover. We utilize resources, lean on our community, and adapt our behavior to heal and grow stronger.
This table illustrates this parallel:
| Crow's Resilience | Human Recovery |
| --- | --- |
| Crows recover from injuries with adaptability and community support. | We overcome physical or emotional injuries with resilience and social support. |
| Crows use their intelligence to navigate obstacles. | We leverage our skills, intelligence, and resources to overcome challenges. |
| Crows' survival is a testament to their resilience. | Our ability to recover from hardships showcases our resilience. |
Death: Understanding the Crow's Connection to the Afterlife
The crow is often seen as a mediator between life and death, partly due to its black color, universally associated with mortality. In some cultures, the crow is seen as a guide for souls transitioning to the afterlife.
The crow's connection with death can help us approach this inevitable aspect of life with more acceptance and understanding. The crow prompts us to consider our mortality not as an end but as a part of our life cycle, offering us a chance to reflect on the transitory nature of life.
The following table elaborates on this concept:
| Crow's Connection to Death | Human Understanding of Mortality |
| --- | --- |
| Crows are seen as mediators between life and death in some cultures. | We often seek spiritual or philosophical understanding to navigate the concept of mortality. |
| Crows' black color is associated with death. | Death is a universal concept we all grapple with, often symbolized by black. |
| Crows can guide souls to the afterlife in some belief systems. | Many cultures have specific beliefs and rituals to honor the dead and aid their journey to the afterlife. |
In understanding the crow's connection with grief, resilience, and death, we unlock another dimension of their spiritual symbolism. These lessons from the crow can help us navigate our journeys with greater depth and understanding.
Bad Omen: Debunking the Crow's Ill-Reputed Symbolism
The crow's association as a bad omen can be traced to various folklore and legends. However, it's essential to re-evaluate this negative image. Crows are intelligent creatures capable of complex thought and communication. They are not the harbingers of ill fortune but rather messengers alerting us to pay attention to our surroundings.
Look at this table to understand this shift in perspective:
| Old Belief | Current Understanding |
| --- | --- |
| Crows are seen as a bad omen in certain cultures. | Crows are intelligent beings that help us be more mindful and observant. |
| The sight of a crow is believed to bring misfortune. | Observing crows can provide us with important insights about our environment. |
Misfortune: Assessing the Crow's Association with Adversity
Across cultures, crows are often tied to adversity. However, this association might be seen as a reflection of the crow's resilience rather than a signal of impending hardship. They can survive in various environments, signaling adaptability and resourcefulness, attributes that can be mirrored in our approach to overcoming adversity.
Here's a table that addresses the crow's association with adversity:
| Crow's Association with Adversity | Our Perception of Adversity |
| --- | --- |
| Crows are often associated with hardship. | Adversity is an integral part of our life that leads to growth. |
| The crow's resilience in harsh conditions is notable. | We can learn to be resilient and adaptable in adversity. |
Danger: The Crow as a Harbinger of Threats
Crows are often seen as bearers of bad news, signaling danger. However, this interpretation can also be seen as the crow's alertness and vigilance. In this context, the crow acts as a vigilant sentinel, cautioning us to be aware of potential threats.
This table contrasts the traditional and modern views of the crow as a sign of danger:
| Traditional View | Modern Interpretation |
| --- | --- |
| Crows are considered signs of danger. | Crows can remind us to stay vigilant. |
| Seeing a crow can be seen as a warning sign. | Observing a crow can remind us to be mindful of our surroundings. |
Witchcraft: The Crow's Role in Magic and the Occult
In the realm of the occult, crows hold a place of reverence. They are often seen as mystical creatures associated with witchcraft and magic. Yet, this connection is more vicious than commonly perceived. The crow's wisdom and adaptability influence rituals and spells in many modern practices.


This table presents the transformation in our understanding of the crow's association with witchcraft:
| Old Perspective | New Understanding |
| --- | --- |
| Crows are linked with witchcraft and the occult. | Crows are respected in modern magic practices for their wisdom and adaptability. |
| They are often seen as companions to witches in folklore. | The crow's intelligence and complex social structures are admired in contemporary witchcraft. |
In essence, the crow's misunderstood symbolism often reflects our fears and misconceptions more than the actual bird. Through a modern lens, we can see the crow not as a symbol of ill fortune or danger but as a reminder of vigilance, adaptability, and wisdom.
The Crow as a Messenger: Divine Communications
The crow is not just an ordinary bird; it holds significant importance in several cultures due to its association with divine communication. This section aims to unravel the crow's role as a divine messenger and its connection with spiritual communications.
The Crow as a Divine Messenger: From the Mundane to the Heavenly
As we move from the mundane to the heavenly, the crow's symbolism shifts from an earthly creature to a divine messenger. Ancient cultures have stories of crows carrying messages from the gods to humans, acting as a bridge between our world and the sacred. Today, many believe that a crow sighting can be a sign or message from the heavenly.
This table delineates this transformation of perception:
| Mundane Perception | Heavenly Perception |
| --- | --- |
| Crows are seen as ordinary birds in the natural world. | Crows are viewed as messengers or intermediaries between humans and the divine. |
| They have their place in the earthly ecosystem. | They play a unique role in spiritual and mythological narratives. |
Messages from God: Interpreting Divine Signs through the Crow
In some cultures, the crow is seen as a vehicle for divine messages or signs from God. The appearance of a crow can be interpreted as a spiritual sign, a message meant to guide or alert the observer. This belief is deeply ingrained in some spiritual traditions, where the crow is seen as an omen or a signifier of divine will.
Here's a brief comparison of how different cultures interpret divine signs through the crow:
| Culture | Interpretation of Divine Signs through the Crow |
| --- | --- |
| Ancient Celtic Culture | The crow is seen as a sign of prophecy linked with the divine law of the universe. |
| Native American Traditions | Crows are seen as messengers from the spirit world, carrying wisdom and guidance from the divine. |
The Crow in Angelic and Spiritual Communication
In angelic and spiritual communication, the crow holds a place of significance. Some spiritual practitioners believe that crows can act as a link between us and the angelic realm, conveying messages and signs. These spiritual messages are believed to guide, forewarning, or affirm one's spiritual path.
This table showcases the crow's role in different spiritual traditions:
| Spiritual Tradition | The Crow's Role in Spiritual Communication |
| --- | --- |
| Angelic Spirituality | Crows are seen as messengers from the angels, bringing divine guidance and reassurance. |
| Shamanic Practices | Crows act as spirit guides, aiding in communication with the spiritual world. |
While interpretations may differ, the crow's association with divine and spiritual communication is common across cultures. We can appreciate the crow's unique place in our spiritual landscape through a deep understanding of this symbolism.
The Crow as a Spiritual Guide: Awakening and Enlightenment
Stepping into a more profound realm of spiritual symbolism, we explore the crow as a spiritual guide. This role illuminates the crow's association with awakening, rebirth, and the deep journey toward self-realization.
The Crow and Spiritual Awakening: An Ego Death
An encounter with a crow is often interpreted as a signal of impending transformation, a spiritual awakening. In this context, the crow embodies a herald of ego death, the dissolution of the self-absorbed ego, and the emergence of a more spiritual, selfless self.
The crow's role in this transformation can be illustrated in the following table:
| Before Awakening | After Awakening |
| --- | --- |
| Life is lived in self-centered pursuit. | Life is led with an emphasis on spiritual values and selfless service. |
| The ego dominates one's consciousness. | The ego is transcended, leading to higher consciousness. |
The Crow and Rebirth: Embracing the New Self
Following the awakening and ego death comes a rebirth. This phase, often symbolized by the crow, represents embracing a new self, a self that is more in tune with the spiritual and less shackled by the physical world. It signifies a powerful transformation, an evolution of the soul.
Here's how the crow signifies this transformation:
| Before Rebirth | After Rebirth |
| --- | --- |
| The old self is limited by ego and material concerns. | The new self is free from ego, open to spiritual growth and wisdom. |
| Life is led by external circumstances and reactions. | Life is driven by inner wisdom and conscious choices. |
Crow as a Spirit Animal: Exploring Personal Growth and Spirituality
The crow, as a spirit animal, signifies personal growth and spirituality. As a spirit guide, it leads us toward self-discovery and spiritual evolution. The crow invites us to explore the mysteries of life and the inner self, urging us to look beyond the obvious and the superficial.
This table showcases the crow's role as a spirit animal:
Role of the Crow as a Spirit Animal
Guides towards personal growth and self-discovery.
Helps in understanding life's mysteries and exploring the spiritual realm.
With its enigmatic symbolism, the crow invites us on a spiritual transformation journey. From the death of the ego to the birth of a new self, it guides us along the path of spiritual awakening, teaching us to view life through a spiritual lens.
The Crow as a Protector: Warding Off Negativity
As we further delve into the symbolism of the crow, its role as a protector comes to the fore. Far from being a harbinger of doom, the crow is often a guardian against negativity, warding off harmful influences and maintaining spiritual balance.
The Protective Energy of Crows: Debunking Myths
Contrary to popular belief, the crow does not symbolize ill luck but is associated with protective energy. This misconception has its roots in cultural misunderstandings and fear of the unknown.
The following table underscores the contrast between common myths and the reality about the protective energy of crows:
| Common Myths | Reality |
| --- | --- |
| Crows bring bad luck and misfortune. | Crows can serve as protectors and guardians, warding off negativity. |
| Crows symbolize death and darkness. | Crows can represent transformation, change, and the cycle of life. |
The Crow as a Guardian Against Evil Spirits and Negative Energy
Crows are often seen as guardians in the spiritual realm, shielding us from evil spirits and negative energy. This protective role can be traced back to various cultural and mythological traditions.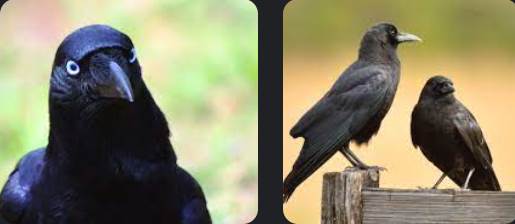 The crow's role as a guardian is depicted in the table below:
Role of the Crow as a Guardian
Wards off negative energy and evil spirits.
Protects the spiritual balance and harmony.
Embracing the Crow's Protection: Practical Advice and Steps
Embracing the crow's protection involves recognizing and appreciating its spiritual significance. It is about cultivating a sense of respect for the crow as a spiritual guide and protector.
Below are practical steps one can take to embrace the crow's protection:
Steps to Embrace the Crow's Protection
Acknowledge the spiritual significance of the crow.
Show respect and gratitude to the crow for its protection.
Pay attention to the presence of crows and the messages they may be sending.
By debunking myths, recognizing the crow's role as a guardian, and embracing its protective energy, we can cultivate a deeper understanding and appreciation of this remarkable creature. The crow's protection is a testament to its unique spiritual significance and the role it can play in our spiritual journeys.
The Dark Side of the Crow: A Deeper Dive into Its Negative Symbolism

While the crow often symbolizes protection and spirituality, there's also a certain level of negative symbolism. In this section, we aim to shed light on the crow's often misunderstood "dark side" while providing practical guidance on overcoming any apprehensions.
The Crow and Bad Luck: A Cultural Perspective
The association of crows with bad luck is prevalent in several cultures, primarily stemming from their appearance in various myths and folklore as omens of misfortune. The table below highlights some cultural perspectives:
| Culture | Belief about Crows |
| --- | --- |
| Western | Often seen as an omen of bad luck due to their black color and association with death. |
| Eastern | In some cultures, crows are considered harbingers of important news or visitors. |
Understanding the Fear of Crows: From Superstition to Reality
Fear of crows, also known as Corvidophobia, extends from superstitions and negative connotations associated with these creatures. Crows are often misunderstood due to their ominous black color, their presence in desolate places, and the unsettling cawing sounds they make.
Let's look at some common reasons behind the fear of crows:
Reasons for Fear of Crows
Association with death and the supernatural.
Their often ominous black color.
Unsettling cawing sounds they make.
Overcoming the Fear: Practical Tips and Guidance
Overcoming Corvidophobia involves understanding and acceptance. Recognizing that crows, like all creatures, are an essential part of the ecosystem and have their unique spiritual significance, can help dispel irrational fears.

Here are some practical tips to overcome the fear of crows:
Tips to Overcome the Fear of Crows
Research and learn more about crows and their behavior.
Understand the cultural context behind any superstitions.
Reach out to a mental health professional if fear persists.
Indeed, the crow does have a "dark side," much like all things in nature. However, by learning more about this fascinating creature and appreciating its spiritual symbolism, we can shed light on its misunderstood aspects and develop a more balanced view.
Marta Savova is a journalist, health, technolgy and science writer. With over 20 years of experience in the field, she has published numerous research papers and articles and has a passion for sharing his knowledge with others. He is a regular contributor to several media.