Humans and dogs share an intricate bond, an interspecies friendship that has molded and grown over thousands of years. Dogs, commonly referred to as man's best friend, have displayed a range of behaviors that have both intrigued and puzzled humans. One such behavior constitutes dog's crying or whimpering at night. A universally observed trait, it draws us to explore beyond superficial reasons and gaze into potential spiritual implications. This discourse aims to develop a comprehensive perspective combing through both canine behavioral science and spiritual interpretations attached to a dog's nocturnal lament.
Understanding Dog Behavior
Understanding Basic Dog Behavior and Night Time Cries
Dogs communicate their needs, wants, and feelings through a variety of vocal and physical signals, including barking, growling, whining, or whimpering. Crying or whimpering at night is a relatively common behavior that can be ascribed to several natural factors. By understanding these behaviors, we can gain insight into the multitude of reasons that could lead a dog to cry at night.
Common Reasons for Dog Crying at Night
One of the most common reasons for a dog to cry at night is separation anxiety. Dogs are social animals, and separation from their human families can cause intense stress. This stress often manifests as crying, whimpering, or barking during the night when they are left alone.
Illness or injury is another common factor that can lead to night-time crying in dogs. Disease, infection, or physical harm can cause discomfort, leading dogs to whimper or cry out in pain. Any unexpected changes in a dog's behavior, including increased crying, should warrant an immediate visit to a veterinarian.
Another plausible reason is the need for attention or affection. Many dogs may cry at night because they want companionship, especially if they are used to being around their owners during the day. Understanding these needs is crucial to mitigate any unnecessary distress for the pet.
Interpreting Dog Crying at Night: A Spiritual Perspective
From a spiritual perspective, a dog's night-time crying can hold different meanings. Some cultures and spiritual systems believe that animals, including dogs, have a stronger spiritual connection than humans. They are considered to be more in tune with nature and the spirit world.
In many spiritual traditions, a dog's crying at night is sometimes perceived as a sign or a warning. It can imply impending danger, illness, or death. In some cultures, a dog's cry is considered an omen or a spiritual call for the owner's attention towards certain aspects of their personal or spiritual life.
Additionally, people who follow spiritual practices may interpret a dog's night-time crying as a reflection of the dog's psychic perception of energies or spirits that humans cannot perceive. For these individuals, a dog's cries could indicate the presence of spiritual beings or alterations in the spiritual atmosphere.
On a more personal spiritual level, a dog crying at night could potentially reflect the pet's empathy towards its owner's emotional or spiritual state. When sensing their owner's stress, sorrow, or emotional turmoil, a spiritually sensitive dog might respond with crying or whimpering.
It's worth noting that the concept of spiritual meanings attached to a dog's behaviors, including crying at night, varies greatly and is highly dependent on a person's personal beliefs, cultural background, and spiritual orientation.
Exploring the potential spiritual meanings behind a dog's nocturnal crying can be a captivating journey. However, it's critically important to not use such interpretations as a means to dismiss or overlook vital aspects of dog health and welfare. Always make sure the fundamental needs of your pet are addressed, and don't disregard potential health issues.
The Spiritual Dimension of Dog's Crying
Unraveling the Spiritual Connotations of Canine Nightly Crying
Dogs have been admired and worshipped across numerous civilizations and cultures. Often seen as loyal companions, they have been attached with profound spiritual symbolism across different cultures. In this context, nocturnal crying or howling of a dog might translate to more than just an ordinary behavior, possibly hinting at deeper spiritual connotations.
Role of Dogs in Mythology and Spirituality
In ancient cultures, dogs were believed to have connections with the supernatural world. For instance, in Egyptian mythology, the god Anubis, who had a canine head, was the guide for souls in the afterlife. It was through Anubis that the souls could communicate their messages or warnings to the living world.
Indian folklore also attributes dogs with the ability to sense spirits and supernatural entities. Seeing a dog cry or howl at night, especially at a time when it's usually calm, can be interpreted as the dog sensing an otherworldly presence or forewarning about an impending mishap.
Native American Beliefs
The Native American tribes also believe animals, including dogs, are spirit guides or totems, representing certain virtues or traits. A howling dog could imply a call for awakening, announcement of a death, or expression of unfulfilled desires.
In some tribes, a dog crying at night would be interpreted as a sign of the soul's journey in the dream realm, or a symbolic dream message needing interpretation.
Asian Cultures
In many Asian cultures, a dog crying, moaning, or howling is interpreted as a bad omen, a sign of lurking danger, or a death omen. For instance, in Korean mythology, dogs crying at night are associated with the death god known as Jeoseung Saja's presence.
Scientific Views
While these age-old beliefs associate a dog's crying at night with spiritual meanings, modern science attributes it to more rational, physiological, and psychological causes. Barking or crying at night could simply be a sign of physical discomfort, hunger, anxiety, attention-seeking behavior, or old age-related issues in dogs. It's always beneficial to observe their behaviors and if unusual, consider consulting with a veterinarian.
Interpretation and Respect towards Beliefs
The spiritual meanings behind a dog's crying at night can vary greatly depending on cultural, religious, and personal beliefs. Some people may interpret these as signs or messages, while others may not give it much thought.
While we explore the spiritual interpretations, it's crucial to remain respectful to the differing beliefs and viewpoints. Moreover, for the health and well-being of our canine companions, unusual behavioral patterns like excessive crying or howling should always be brought to the attention of a professional.
From a spiritual viewpoint, when a dog cries at night it may serve to remind us of the profound bonds and mystical links we share with the animal kingdom. These connections, honed over thousands of years of companionship, are far from superficial and bear deep spiritual significance.
Significance of Night in Spiritual Practices
The Spiritual Connotations of Night
In various cultures and spiritual traditions, the concept of night wields significant importance. It is often perceived as a realm of mystery and mystique, a gateway to the unknown that frequently leads to divine revelations. In Eastern religions such as Buddhism and Hinduism, the night is deemed to be a time of immense spiritual value, setting the stage for meditation, prayer, and other spiritual activities thought to pave the path to deeper wisdom and enlightenment.
Understanding the Symbolism of Night
Symbolically, night represents the realm of intuition, dreams, and unconscious mind. It's a time when the veil between our physical world and the spiritual realm is believed to be thinner. This idea is grounded in the belief that during the hours of darkness, human consciousness drifts into a different state, often transcending the physical realm to experience spiritual phenomena or receive divine messages.
Dreams and Their Spiritual Implication
Dreams are another key element associated with night, often imbued with spiritual implications. In various cultures, dreams are viewed as messages from the sublime or interpretations of future events. In the case of animals like dogs, spiritual practitioners believe that they too can experience discerning dreams or visions during the night, which may result in their crying out or displaying unusual behavior.
Dogs Crying at Night: A Spiritual Perspective
From a spiritual perspective, dogs crying at night might hold unique meanings. Dogs are traditionally viewed as sensitive to subtle energies and may perceive things that humans may not. In various cultures, the dog is viewed as a guide or bridge between our physical reality and the spiritual world. Therefore, when a dog cries at night, it may indicate their discomfort, distress, or reaction to unseen energies.
The Interplay of Night and Animal Reactions in Spirituality
It is worth noting the interplay between the night, with its symbolic significance, and animal reactions like dogs crying, in spiritual interpretations. Considering a dog's heightened senses and instincts, their reactions may get more intense under the cover of darkness, given the reduced distractions. This can potentially heighten their perception of the spiritual realm, thus leading to emotional expressions like whimpering, howling, or crying.
While such interpretations can provide an alternative understanding of a dog's behavior, it is equally essential to rule out more mundane factors leading to their distress.
Factors like physical discomfort, fear, loneliness, or anxiety could naturally cause a dog to cry or whimper during the night.
Interpreting Spiritually: Understanding Dog Cries at Night
The spiritual significance behind a dog crying at night can vary drastically based on one's personal beliefs and perspectives. Some individuals may perceive it as a mystical signal or a message from beyond, while others see it as a nudge to keep a keen eye on their pet's overall health and welfare.
Dreams, Omens, and Signs in Different Cultures
Symbolism in Tradition: Dogs as Spiritual Signifiers
Dogs aren't merely pets in numerous cultures around the world. They hold significant spiritual connotations and are seen as carriers of omens, particularly when they cry or howl in the nighttime. The way these incidents are interpreted depends greatly on the specific situation and the overall cultural sentiment towards dogs.
Native American Beliefs
In various Native American traditions, for instance, dogs—especially a dog's howling at night—are considered important supernatural signals. To the Blackfoot Tribe, when dogs howl at night or act in ways they normally wouldn't, they're believed to be seeing spirits or supernatural entities that humans can't perceive. Therefore, a dog's howling at night can symbolize an otherworldly presence or omen according to this tradition.
Chinese Tradition
In Chinese astrology, the Dog is one of the 12 animals of the zodiac, bestowing unique characteristics on those born under its sign. A dog howling absent an evident cause might be viewed as an omen or sign, typically of misfortune or death, in traditional Chinese belief.
Irish Folklore
In Irish folklore, a dog's nocturnal howling, particularly at the moon, has been associated with the presence of a Banshee, or a fairy woman warning of forthcoming death. This belief is particularly ingrained in the Celtic traditions, where dogs' association with magic continues to hold sway.
European Superstitions
Across Old World Europe, there has been a longstanding superstition that a dog crying or howling at night may be a death omen, manifested in folkloric figures such as the Welsh Cwn Annwn, or "hellhounds". These spectral hounds would howl outside a dying person's home alerting locals to impending doom.
Hindu Beliefs
In Hinduism, dogs have a complex and varied interpretation. They're believed to be the vahana (vehicle) of Bhairava, a fierce manifestation of Lord Shiva, often associated with annihilation. A dog crying or howling at night, in some interpretations, can be a bad omen, hinting at unwanted events or illness.
Animal Totems: Spirituality and Personality Traits
Beyond omens, in some belief systems, dogs represent guidance, protection, loyalty, fidelity, faithfulness, alertness, and love. As animal totems, dogs, depending on their actions, could be seen as guiding spirits or protective entities—this includes their crying or howling at night. For some spiritual practitioners, a dog crying at night could signify an alert to pay attention to one's surroundings or a prompting to foster certain traits at that moment.
Considering Cultural Contexts: Conduct Cautious Interpretation
In exploring the spiritual meanings behind a dog's actions, particularly when crying at night, it's paramount to consider the variations in these interpretations stemming from diverse cultures around the globe. We must remember that these spiritual analogies exist within their unique historical, geographical, and sociocultural contexts. A canine action signifying a negative sign in one culture may bear a contrasting spiritual connotation in another. It is so because dogs' symbolism and corresponding actions like nocturnal crying stand embedded in intricacies and thus, resist oversimplification or broad generalizations.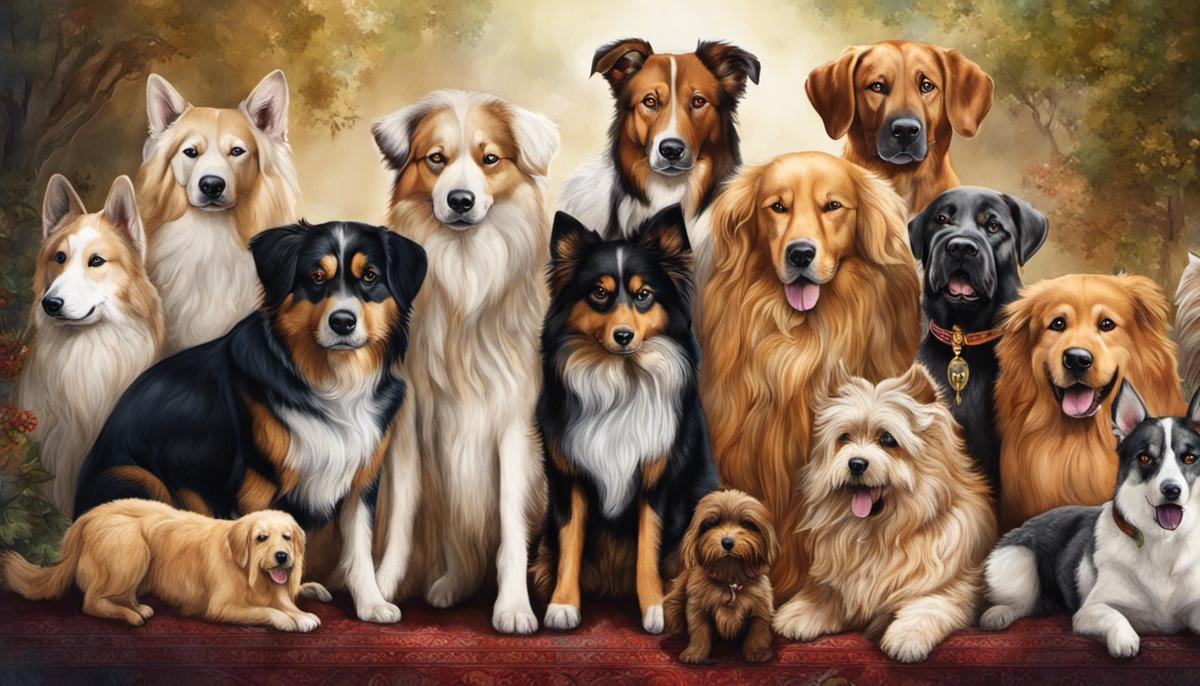 Bridging the Gap: Animal Behavior and Spirituality
Investigating Canine Behaviour
To holistically understand the nocturnal behavior of dogs, such as crying at night, we also need to delve into the science behind their behavior. Dogs, akin to numerous other animals, exhibit specific behavior patterns determined by environmental factors, genetic influence, and their overall health. There could be various scientifically established reasons behind a dog whining or crying at night. It may be an indication of physical discomfort, feelings of isolation, fear, or merely a response to a physiological need. Older dogs might display such actions due to cognitive dysfunction syndrome, an affliction comparable to Alzheimer's in humans.
Animal Behavior and Spiritual Beliefs
There is a long-standing tradition in many cultures worldwide that attribute spiritual meanings to animal behaviors. In the context of a dog crying at night, certain cultures may connect this behavior to a spiritual or supernatural interpretation. For instance, in some cultures, it is believed that dogs have a heightened sense of the supernatural and that their crying could indicate the presence of unseen entities.
Bridging the Gap: Animal Behavior and Spirituality
Bridging the two perspectives involves understanding the roots and validity of both paradigms. While science provides evidence-based and observable reasons for a dog's behavior, spiritual interpretations are grounded in faith, tradition, and cultural beliefs. Neither of the perspectives inherently negates the other, and they can often coexist, granting the observer a holistic understanding of the situation.
A balanced approach
A balanced approach would be to observe and understand a dog's crying from a scientific perspective first, as it could reveal necessary actions to ensure the animal's well-being. For instance, if the dog is in physical pain, it would need immediate medical attention. On the other hand, acknowledging spiritual interpretations can also foster a deeper connection with the dog, particularly when the behavior remains consistently inexplicable even after eliminating all possible scientific causes. In cases like these, the spiritual interpretation doesn't afford a tangible course of action, but it usually provides emotional or psychological comfort to the observer.
Implications for Dog Owners
For dog owners, understanding both the scientific and spiritual aspects of their pet's behavior can lead to a more comprehensive appreciation of their dog's actions. From a practical perspective, owners should ideally first address any potential medical or psychological issues the dog might be facing. However, when these night-time cries persist, it might be useful and reassuring for some to look at these actions through the lens of their cultural or spiritual beliefs.
Cultural Context and Respect
Given the diversity of spiritual beliefs worldwide, it is also important to foster a respect for the beliefs of others. While some people may not share the interpretation of dogs crying at night as a spiritual sign, it is crucial to understand that such beliefs may hold significant meaning in other cultures or for other individuals.
Every culture, every belief system, every scientific study unravels a new facet of understanding for our companions and their behaviors. Dogs' nighttime crying holds layered meanings – it can be a simple call for attention, a sign of physical discomfort or potentially a spiritual message, depending on the lens through which it's viewed. It's a remarkable testament to the diversity and richness of human beliefs system and the depth of our bond with these four-legged friends. While science provides us with empirical data and logical reasoning, spirituality adds a dash of intrigue, wonder, and personal interpretations, thus making our relationship with dogs extraordinary and profound.