The grandeur and elegance of herons have left a significant impression on various cultures around the world, making them revered symbols in numerous societies. The heron's characteristics of serenity, patience, and individuality resonate deeply with human values, leading us to associate them with similar traits within ourselves in our spiritual journeys. These majestic birds not only touch our souls as spirit animals but also inspire our minds through their representations in literature and art. The purpose of this discourse is to delve into the fascinating exploration of the profound spiritual meaning and symbolism of herons, their cultural relevance, and their wise teachings that we can incorporate into our daily lives.
Symbolism of Herons in Different Cultures
Symbolism of Herons in Native American Cultures
In the Native American culture, herons hold a significant spot. They are seen as a symbol of wisdom and good judgment. With their watchful and patient hunting approach, herons teach the importance of waiting for the right opportunities instead of rushing into decisions. They are revered for their contemplative and thoughtful demeanor. They are deeply connected with the element of earth, serving as guides between the physical world and the spiritual realm. In some tribes, seeing a heron signifies a coming life transition or an evolution of the spirit.
Herons in Celtic Symbolism
Celtic traditions attribute distinct spiritual significance to herons. The Celts considered these birds to be associated with the gods and the divine. Herons are linked with the Celtic god Manannan mac Lir, who is deemed as a shapeshifter and gatekeeper between the worlds. One of his preferred forms was the heron, symbolizing his role as a guide between the mortal realm and the otherworld. Herons in Celtic culture also stand for strength, purity, patience, and long life.
Herons as A Symbol in Japanese Culture
Herons hold immense spiritual importance in Japanese culture. In Japanese lore, they are perceived as noble and graceful creatures that inhabit both the earthly and the celestial domains. The Japanese associate herons with eternal life, possibly due to their long lifespan. Herons are often portrayed in art as a symbol of beauty and grace, flying through the air with a sense of calm and composure. They are thought to embody a tranquil and contemplative spirit, an embodiment of grace, tranquility, and noble dignity.
Interpretations in Other Cultures
Aside from the aforementioned cultures, herons are venerated in several other societies for their spiritual significance. In ancient Egypt, herons were linked to the sun god Ra and symbolized creation and new beginnings. In Chinese culture, herons denote strength, purity, patience, and a long life. In African cultures, herons represent communication with the gods.
Understanding the Spiritual Significance of Herons
Across the world and through various cultures, the heron has become a universal symbol embodying patience, grace, determination, serenity, and wisdom. Esteemed not just for its unique beauty but also for its solitary and self-dependent behavior, it emphasizes the importance of individuality and self-discovery. Acknowledged and artistically represented as a spiritual guide in many traditions, the universal symbolism of the heron communicates powerful lessons acting as a spiritual compass, transcending cultural differences.
Spiritual and Psychological Interpretations of Herons
Embracing the Heron as a Spirit Animal
Respected for its sophistication, tranquility, resourcefulness, and intelligence, the heron has profound spiritual implications that cannot be underestimated. With its image deeply etched in spirituality, serving as a symbol of longevity and wisdom in diverse cultural narratives, the heron as a spirit animal provides unique personal insights. When the heron graces your life path as a spirit guide, it's usually a signal heralding a phase of introspection and solitude. A time to delve into your individual journey, wade through the depths of emotions, and employ innate wisdom for self-evolution and personal metamorphosis.
Symbolism in Self-discovery and Individuality
The heron is typically seen as nonconforming, often choosing not to follow the crowd. Thus, it is seen as a representation of unique individuality and being comfortable in one's own space. This can be interpreted as encouragement or a reminder to pursue one's personal truth, even if it means taking the path less traveled. It embodies strength, independence, and the courage to explore unfamiliar terrains.
Heron Symbolism: Tranquility and Patience
The heron's behavior displays natural tranquility and patience. Known for standing motionless for long periods while waiting for their prey, herons teach us the importance of waiting politely for the appropriate time to make our move. The heron's ability to stay calm during periods of quiet waiting reveals a sense of peace, stillness, and calm that surfaces from the inner self.
Herons in Dream Interpretation
In dream interpretation, seeing a heron holds distinct significance. According to ancient beliefs, a heron appearing in dreams might symbolize good fortune, blessings, and success. It could also indicate opportunities that require patience and precision for optimal outcomes. Dreaming of a heron can thus be interpreted as a call to take meticulous and patient steps towards achieving one's goals, just like the heron waits for the perfect moment to catch its prey.
Association with Wisdom and Longevity
In various cultures, herons are also seen as a symbolic representation of wisdom and longevity. A heron's long life cycle mirrors wisdom accumulated over time, and it signifies the rewards and insights gained from long-standing experience.
Jungian Psychology and the Symbolism of the Heron
Carl Jung's psychological theories often turned to the symbolism of various archetypes. Amongst these, the heron stands as a potent symbol. The bird represents the archetype of a wise mentor guiding the individual on their journey through the subconscious. As such, herons can be seen as a powerful symbol for those who are deeply engaged in introspective pursuits, seeking to explore and unlock their full potential.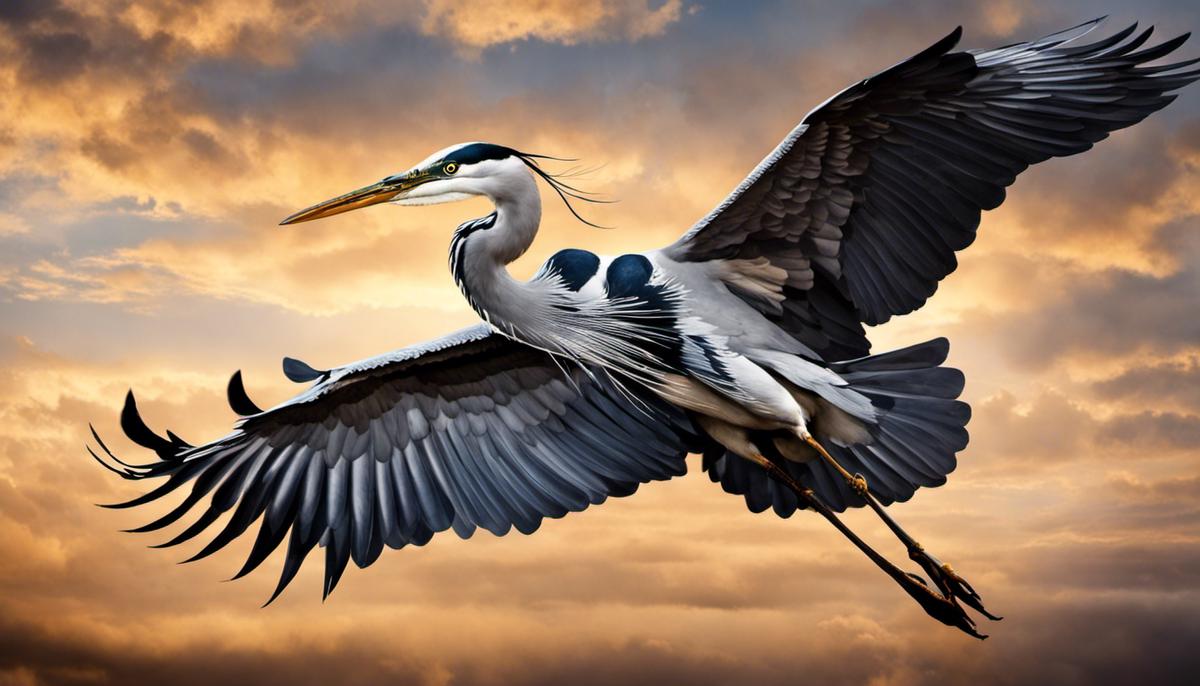 Heron Symbolism in Literature and Art
From historic literature to modern-day artwork, the heron has frequently been cited as a symbol embodying wisdom, patience, solitude, and self-reliance. Over cultures and centuries, this bird of majesty has often been portrayed by artists and authors as a representation of higher consciousness and spirituality.
For instance, in ancient Egyptian glyphs, the heron is symbolic of a person's journey into the afterlife, encapsulating the notion of 'going forth.' Here, the bird signifies an individual's divine 'Ba' or individual soul embarking on the journey towards enlightenment. Seen as a spiritual guide, the heron was believed to guide souls to the realms of existence that followed.
Ancient Greek mythology aligns herons with Athena, the goddess of wisdom and warfare, representing them as divine messengers connecting heaven and earth. This signifies spiritual awareness and heavenly guidance. Similarly, Celtic mythology portrays the heron as a mystical creature straddling life and death, capable of existing in both realms effortlessly.
In eastern traditions, particularly Chinese and Japanese, the heron is revered as a reflection of purity, elegance, and grace. Frequently depicted as a liaison between earth, heaven, and the under-world, the heron embodies divine affection and spiritual transmutation.
Contemporary literature and art have absorbed these ancient symbolic associations, revamping them to reflect current themes. While the frameworks change, the heron's embodiment of wisdom, and its spiritual prowess to traverse realms, remains consistent. Some well-known modern-day icons who've incorporated the heron into their works include Virginia Woolf in "The Death of the Moth," and Frank Weston Benson, the renowned American painter, whose impressionist renderings of heron's amidst nature are akin to a tribute to their tranquil beauty and grace.
Native American traditions, especially the folklore of the Northwest tribes, view the heron as a symbol of wisdom and sound judgement. The heron, to them, held the secret knowledge of the universe and the mysteries of life and death. They revered the heron's ability to make wise decisions while hunting, demonstrating patience and determination.
Over time, herons have continuously been a principal subject in numerous artworks, notably in painting and sculpture. Their grace together with their serene demeanor make them perfect models to depict tranquility and deep introspection, perfectly reflecting the human quest for inner peace and self-realization.
Regardless of time and culture, the spiritual symbolism of the heron is universal. Throughout different interpretations, the commonality uniting these depictions remains: the heron embodies wisdom, grace, and spiritual exploration, thus serving as an inspiring catalyst for human spiritual growth.
Real Life Lessons from Heron Symbolism
The demeanor of the heron signifies the virtues of patience, careful contemplation, and strategic action. In various cultures and spiritual practices, the sight of a heron standing still on one leg whilst keenly observing the water, ready to strike at the opportune moment, has become emblematic. This particular trait of the heron emphasises how individuals should also evaluate situations diligently, observe passionately, and act decisively only when assured of their success, thereby avoiding hasty and potentially disastrous decisions. Much like the heron, developing such habits could be integral in successfully navigating through the challenges of life.
Embodying Flexibility: Learning from the Heron
Just as the heron adapts to different environments – whether roaming the skies, walking the earth, or wading in water, you too should learn to adapt to circumstances. The ability to maintain balance, whether in favorable or challenging situations, is a priceless trait symbolized by the heron. Life often presents unexpected changes, but by embracing flexibility, you can successfully navigate through the twists and turns of your journey.
Individuality: The Distinct Character of a Heron
Herons are typically solitary creatures, often seen feeding and nesting alone. This symbolizes individuality and self-reliance. The spiritual message here is to embrace your uniqueness and follow your path. While social interactions are vital, moments of solitude can enhance self-discovery and personal growth.
Taking Control: The Heron as an Action-Taker
Herons are also symbols of assertiveness and determination. They stand tall, spear fish swiftly, and defend their territory fiercely. This spirit reminds you to assert yourself where necessary and to take action towards achieving your goals. Sometimes the will to make the first move or break the cycle is what you need to foster change.
Wisdom and Knowledge: Guidance from the Heron Spirit
Lastly, the heron is a symbol of wisdom. Its long life and heightened sight are associated with experience and insightful knowledge. Let the heron spirit guide you in gaining wisdom from life experiences. Always strive to learn, grow, and become better. Remember, wisdom lies not just in the good times, but also in the challenges you overcome.
This overall spiritual message from heron symbolism is about balance, individuality, patience, assertiveness, wisdom, and adaptability. By observing the heron, you can apply these meaningful life lessons that can guide personal development and well-being. To embody the spirit of the heron is to navigate life more keenly, act judiciously, and appreciate one's solitude.
As we journey through life, the heron stands as a emblematic guide. Reflecting upon its essence, we discover a portrait of grace, tenacity, and nonconformity. These attributes are beautifully articulated in various cultural traditions, spiritual realms, and even literary and artistic renditions. Through the understanding and appreciation of the heron's spiritual resonance, we acquire the knowledge to not only embrace our own unique individuality, like the solitary heron, but to also strive for balance and tranquility. As the heron stands tall and poised on the brink of water and land, may we too learn to tread the line between the worldly and the spiritual with the same composed agility and wisdom.