Across diverse cultures and histories, birds have transcended merely being part of the natural world to holding profound symbolic values in human societies. Such symbolic significance has found a unique manifestation in the realm of body art, with bird tattoos being particularly notable. Anchoring their enduring appeal are the broad themes of freedom, spirit, and aspiration that they often convey. The focus in this exploration, however, drills to a more specific subset – the black bird. In the myriad nuances the black bird carries, its interpretation weaves through the diverse threads of culture, mythology, literature, and spirituality. Furthermore, the different species of black birds like crows, ravens, and blackbirds lend an added layer of depth to the symbolism.
Symbolism of Birds in Tattoos
Symbolism of Birds in Tattoos
Birds have long been powerful symbols in various cultures around the world, and these meanings carry over effectively into the realm of tattoo art. Many bird tattoos often represent freedom, spirit, and aspiration. Freedom comes from how birds have the ability to go wherever they want, flying high in the sky. This symbolism of freedom resonates with many people who have faced challenges or feel held down by certain aspects of their life. Thus, a bird tattoo becomes a symbol of breaking chains and becoming emancipated from societal constructs or personal limitations.
Spirit is yet another common interpretation associated with bird tattoos. Birds often symbolize higher ideals, spirituality, and being in touch with your soul. Across many cultures, birds are seen as messengers between the human world and the spiritual realm, representing the elevation of the soul.
The symbolism of aspiration in bird tattoos comes from birds' ability to fly above the earth. This implies a perspective that's higher and broader than what's found at ground level. Bird tattoos often express a person's aspirations to attain greater heights, reach their goals, and live their dreams.
Understanding Black Bird Tattoo Meanings
Black birds are frequently sought after when choosing bird designs for tattoos. But what does a black bird tattoo symbolize? There's a wealth of interpretations that can be drawn from this tattoo.
Commonly, a black bird tattoo stands for mystery, enigma, and the unexplored. Different cultures have linked black birds such as crows and ravens with the vast enigma of the universe. They also have sanctified associations in some spiritual systems.
Moreover, a black bird icon might indicate transformation and progress. This is particularly true for crows and ravens, which are traditionally viewed as symbols of changes and prediction.
Furthermore, a black bird tattoo mirrors strength, hardiness, and endurance. Renowned for their tenaciousness and adaptability to distinct conditions, many black bird species provide a potent symbol for resiliency and overcoming hardships.
Such tattoos can also resonate with notions of intelligence and sagacity as these birds are routinely aligned with cleverness and acumen in various myths and fables.
Ultimately, the precise connotation of a black bird tattoo can greatly diverge based on the personal experiences and convictions of the bearer. This results in pervasive motifs adopting distinctive connotations from one person to another, a truly intriguing phenomenon.
Specific Significance of Black Bird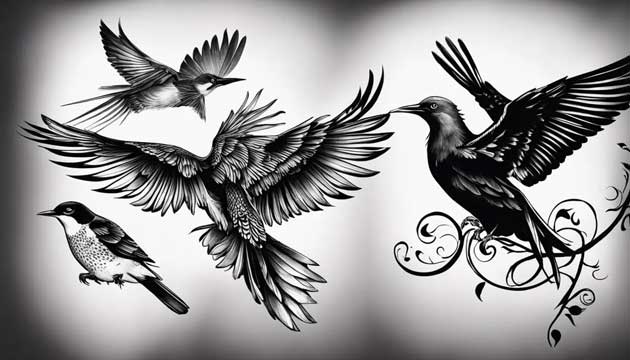 The Depth of Black Bird Tattoos
Embodying a profound symbology that varies across different cultures and spiritual systems, black bird tattoos are often linked with mystery, metamorphosis, or even death. These tattoos, therefore, bear meanings that are as multifaceted as their designs.
Black Birds in Spirituality
In spirituality, especially within Wiccan and pagan communities, a black bird tattoo can signify the ability to see beyond the physical into the spiritual realm. It is seen as a conduit for channeling wisdom and messages from the spirit world.
Considering their customary association with death, black birds in spirituality also symbolize rebirth, renewal, and transition. A black bird tattoo might represent a significant change in one's life, a fresh start, or overcoming a challenging phase of life, akin to a rebirth.
Black bird tattoos can also represent freedom and the desire for a free spirit. Birds are naturally free creatures, hence the tattoo could represent the wearer's desire to be unchained and unrestricted in life.
Interpreting the Significance of Black Bird Tattoos
The myriad interpretations of black bird tattoos hinge on various societal, cultural, and spiritual contexts tied to black birds themselves. Viewed as liaisons of the spiritual realm, symbols of metamorphosis, freedom, and life transitions, these tattoos hold profound meanings. Any individuals contemplating getting such a tattoo should take into account these varied interpretations, as a mark of respect and recognition for the rich symbolic history of their chosen symbol.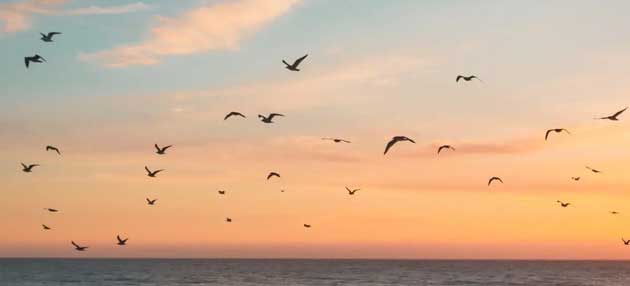 Variations of Black Bird Tattoos
Variations in Black Bird Tattoo Designs
Tattoos featuring blackbirds come in different designs, each symbolizing unique aspects. The blackbird, known for its elusive nature and inky plumage, often stands for mystery, intrigue, and the unexplored. Along these lines, tattoos of crows and ravens are also favored for their wealth of mythological and symbolic references.
In many cultures, crows are considered intelligent and adaptable creatures, thanks to their survival capabilities in various settings. They are thus associated with transformation and adaptability. Ravens, on the other hand, are integral to the lore of many indigenous cultures in North America, embodying concepts of creation, rebirth, and transformation.
The significance of blackbird tattoos can be further amplified by combining them with other symbolic elements. For instance, a blackbird seen with an open cage may signify liberation and expulsion of negative energies, whereas, a blackbird alongside a white feather can evoke ideas of spiritual purity and transcendence.
Species and Symbolism
The species of the bird dramatically influence the tattoo's meaning. Moreover, different cultures assign different symbols to these birds. For instance, Native Americans view the crow as a trickster, symbolizing transformation, while Celtic mythology depicts it as a sign of war and death due to its ties with the battlefield. In contrast, in Greek and Roman mythology, the crow is considered as a symbol of the future and spiritual growth because of its supposed prophetic abilities.
Ravens may bear similar physical characteristics to crows, but their symbolic meanings can significantly differ. In Greek and Norse mythology, ravens are often associated with the gods and serve as messengers or symbols of prophecy and wisdom. These birds are also seen as mysterious creatures representing thought and memory.
Black Bird Tattoo Placement and Symbolism
The symbolism and overall interpretation of a black bird tattoo are often influenced by its placement. For example, a blackbird inked close to the heart can indicate love and devotion, or it can portray a heartfelt transformative experience.
Moreover, blackbird tattoos can hold different meanings when placed on various body parts. On the arm or shoulder, it could symbolize resilience and the adaptability to life's challenges, drawing an analogy from how blackbirds adapt to different environments. Conversely, a blackbird tattoo placed on the back can symbolize burdens or responsibilities one is shouldering.
Additionally, the trajectory in which the bird is flying can denote different implications. When upward, it can signify spiritual growth or ascension, while a downward-facing bird may symbolize a grounding connection to the earthly world. A bird in flight can symbolize the desire for freedom or indicate an ongoing journey, whereas a resting bird may illustrate satisfaction, or a period of pause for reflection.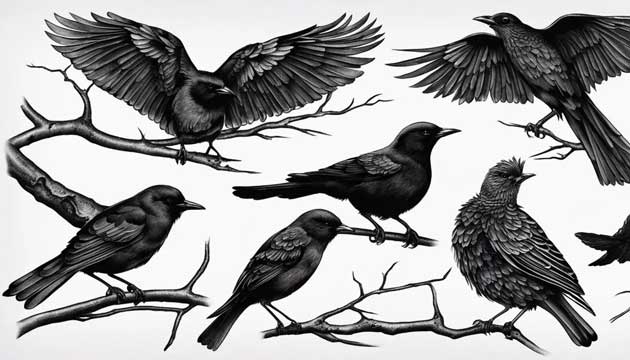 Famous Personalities with Black Bird Tattoos and their Interpretations
Celebrities and Their Black Bird Tattoos
Numerous celebrities express their life experiences, personal identities, and deeply-held beliefs through the ancient, artistic form of tattoos. Among the variety of tattoo designs they choose to wear, black bird tattoos hold a unique position due to their significance and individual interpretation.
Celebrities with Black Bird Tattoos
One of the most famed celebrities with a black bird tattoo is Johnny Depp. He has a tattoo of a sparrow flying towards him on his forearm, a tribute to his son Jack and his famous role as Captain Jack Sparrow in 'Pirates of the Caribbean.' Depp's black bird tattoo symbolizes freedom, even amid life's struggles, mirroring his own journey in the entertainment industry.
Another example is pop sensation Justin Bieber, who has a small seagull tattoo on his hip. This tattoo was inspired by the classic book 'Jonathan Livingston Seagull.' The book's themes of self-discovery, flight as freedom, and individuality resonate deeply with Bieber, reflective of his own life and career trajectory.
Interpretations of Black Bird Tattoos
The interpretation of black bird tattoos largely varies, dependent on personal experiences and cultural symbolism attached to different bird species. Generally, black bird tattoos represent freedom, transformation, and the ability to overcome challenges. These significant meanings might have lured these well-known personalities to ink themselves with black bird tattoos.
From an aesthetic perspective, black bird tattoos have a timeless appeal, balancing dramatic lines with fluid motion. Their dark silhouette stands out on the skin, making them a visually striking and meaningful choice for body art.
However, the specific interpretations and their relation to the individual's personal journey make each tattoo unique. For instance, Johnny Depp's sparrow speaks of his tumultuous career path, whereas Justin Bieber's seagull depicts his quest for identity and purpose.
The Power of Personal Expression through Tattoos
The choice of a black bird tattoo goes beyond mere aesthetics for these celebrities. It is a form of self-expression, a visual representation of their journeys, challenges, and triumphs. These tattoos are their silent companions, reminders of their past, a testament to their resilience, and a symbol of hope for their future journeys.
This reflection of personal narrative differentiates each black bird tattoo, making them a rich tapestry of tales, beliefs, and experiences. It underscores the power of personal expression through tattoos, imbuing them with deep, subjective meanings and a story to tell.
Photo by isracguti19 on Unsplash
On a concluding note, black bird tattoos wield a captivating presence, punctuated by richness in symbolism and threaded with personal narratives. The universality of themes rendered by birds in tattoo culture, merged with the unique cultural mythos associated with specific representatives like black birds, makes these tattoos an interesting subject of study. Whether it's celebrities adorning themselves with these designs as an expression of identity or individuals exploring their spirituality, black bird tattoos serve as a fascinating medium of personal storytelling. They remind us that tattoos can go beyond pure aesthetics to being complex representations of our emotions, beliefs, and life experiences.