Master the James Bond Card Game: A Comprehensive Guide to Rules, Strategies, and Variations. Unleash Your Inner Spy. Shake up Game Night: Tips, Tricks, and Rules. The Exciting and Engaging Card Game Explained
The James Bond card game is an exhilarating, fast-paced matching game perfect for an enjoyable time with family and friends. It's easy to learn and offers endless entertainment for players of all ages. In this article, we will explore the basic rules, strategies, and variations of the James Bond card game so that you can become a master of this thrilling game.
Basic Rules of the James Bond Card Game
Number of players and cards
The James Bond card game can be played with two to four players, making it an excellent option for small gatherings or even a one-on-one duel with a friend. A standard 52-card deck is used, with no jokers included.
Dealing the cards
The number of cards dealt to each player depends on the number of players. Here's a helpful table outlining the card distribution for different player counts:
| Number of Players | Cards Dealt per Player |
| --- | --- |
| 2 | 24 |
| 3 | 16 |
| 4 | 12 |
After dealing the cards to each player, there will always be four cards remaining. These cards are placed face-up in the center of the table, serving as the starting point for swapping cards during gameplay.
Gameplay and Objective
Objective: Getting four matching cards in each pile
The primary goal of the James Bond card game is to collect four matching cards (of the same rank) in each of your piles. Players will be swapping cards with the ones in the center of the table to achieve this goal. Remember that suits don't matter; only the rank of the card is essential.

Gameplay: Picking up piles, swapping cards with the middle, and announcing "James Bond" to win
The game begins with a countdown from three, and players simultaneously start picking up their piles, looking at them, and deciding whether to swap cards with those in the middle of the table. The game's fast-paced nature means there are no turns; everyone plays as quickly as they can.
When swapping cards, players must follow these rules:
Only one card can be swapped at a time.
A player must place a card from their pile into the middle before picking it up from the center.
A player can only look at one pile at a time and must put the pile face-down on the table before picking up and examining another pile.
The game continues with players swapping cards and rearranging their piles until one player successfully collects four matching cards in each pile. To claim victory, the player must shout "James Bond" and then reveal their piles to prove they have won.

End of the game: The winner shows all piles to confirm their victory
When a player announces their win by shouting "James Bond," the game comes to an end. The winner must then turn over their piles to show that they have four matching cards in each pile. This confirmation ensures genuine victory and allows other players to see the winning combinations. With practice and strategic thinking, you, too, can become a skilled player of the James Bond card game!
Strategies for Winning the James Bond Card Game
Mastering the James Bond card game requires a combination of speed, strategy, and observation. To increase your chances of winning, consider the following tips and tactics:
Observing opponents' moves and card choices
Monitor your opponent's actions and the cards they pick up or discard. This information can help you deduce which cards they might be looking for and provide insight into their progress. If you notice a particular card being frequently discarded, consider grabbing it for your piles, as it may help you complete a matching set faster.
Prioritizing piles with fewer unmatched cards
When working on your piles, focus on the ones closest to completion. Prioritizing piles with fewer unmatched cards will help you achieve your goal more quickly and increase your chances of winning. As you complete each pile, move on to the next one systematically to maximize efficiency.
Balancing speed and accuracy to prevent mistakes
The James Bond card game is about speed, but don't let haste lead to mistakes. Move quickly, but ensure you're swapping the correct cards and placing them in the appropriate piles. A single error can set you back significantly, so take a moment to double-check your moves and ensure you're making the right decisions.
Deciding whether to reveal completed piles or not
One strategic decision you'll need to make is whether to reveal or keep your completed piles hidden. Showing a completed pile can be a double-edged sword. On one hand, it may intimidate your opponents and cause them to make mistakes. On the other hand, it also tips them off to your progress, and they might adjust their strategies accordingly. Consider your opponents' skill levels and your confidence in your abilities when making this decision.
By employing these strategies and practicing regularly, you'll be well on your way to becoming a formidable James Bond card game player. Remember, the key to success combines quick thinking, strategic decision-making, and keen observation.
Variations of the James Bond Card Game
The James Bond card game offers plenty of excitement and challenge in its traditional form, but you can also explore various adaptations to keep the game fresh and engaging. Here are some popular variations that you may want to try:
Team play for four players.
In this variation, players can work together in pairs to complete their piles. Each player still has four piles in front of them, and they can only swap cards with their partner or the center piles. Communication is crucial in this version, as teammates must coordinate their moves and share information about the cards they need or are discarding.
Different words used to claim a win
Instead of announcing "James Bond" when you've completed all your piles, players can choose to use alternative phrases. For instance, you might use "Atlantis" or "Chanhassen" to signal victory. It adds a fun twist to the game and can be particularly enjoyable when playing with friends with a common interest or inside jokes.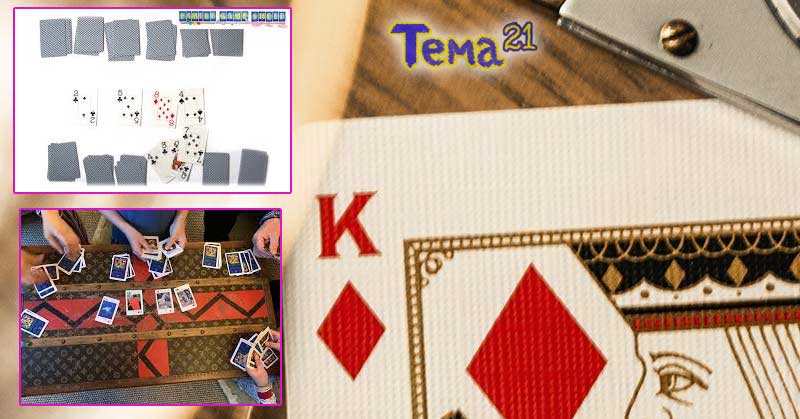 Simultaneous card trading option
Players can opt for simultaneous card trading to ramp up the intensity and chaos of the game. Players trade cards with the center piles simultaneously rather than taking turns in this variation. This fast-paced version requires quick reflexes, excellent observation skills, and the ability to strategize on the fly.
Additional rules for announcing "book" upon completing a pile
Another exciting twist involves adding a rule that requires players to announce "book" when they complete a pile. If a player forgets to make this announcement and another player catches them, the player who failed to announce "book" must break up their completed pile and start over. This rule adds an extra layer of challenge, as players must stay vigilant and remember to announce their progress while trying to outmaneuver their opponents.
By experimenting with these variations, you can add new complexity and excitement to the James Bond card game. Each adaptation requires players to adapt their strategies and think on their feet, providing countless hours of entertainment for family and friends.
Frequently Asked Questions about the James Bond Card Game
As you delve into the James Bond card game world, you may have some questions about its rules, gameplay, and variations. We've compiled a list of frequently asked questions to help clarify any uncertainties and provide additional information.
Can you play James Bond with two people?
The James Bond card game is designed to accommodate 2-4 players. With just two players, each would use 12 piles, and the gameplay remains the same. Players still aim to create piles of four matching cards while swapping cards with the center piles and their opponent.
Can you play James Bond with four players?
Yes, you can play the James Bond card game with four players, typically using the team play variation mentioned earlier. In this version, two teams of two players complete their piles. Each player has four piles, and teammates can swap cards with each other or the center piles.
What is another name for the James Bond card game?
The James Bond card game has several alternative names, including Atlantis, Chanhassen, and Lännen, nope. These names may be used in different regions or by groups of players who prefer a unique name for their game.

What card game did James Bond play in Casino Royale?
In Casino Royale, James Bond played Texas Hold'em Poker, not the James Bond card game. Texas Hold'em is a popular poker variant that involves betting and strategizing based on the cards dealt to each player and the community cards shared by all players. On the other hand, the James Bond card game is a fast-paced matching game with a different set of rules and objectives.
Tips for Hosting a James Bond Card Game Night
A James Bond card game night can be a fantastic way to bond with friends and family while enjoying a thrilling and fast-paced game. To ensure your game night is a success, follow these tips for creating a comfortable and engaging atmosphere.
Setting up a comfortable playing area
A well-organized and comfortable playing area is crucial for an enjoyable game night. Ensure enough seating for all players, with a sturdy table or surface for playing the game. Adequate lighting is also essential, as players need to see the cards and piles. Keep the playing area clutter-free to avoid distractions and make sure players can focus on the game.
Explaining the rules to newcomers
If any of your guests are new to the James Bond card game, take the time to explain the rules and objectives clearly. Consider providing a printed copy of the rules for reference during gameplay. Encourage newcomers to ask questions and clarify any uncertainties they might have. Patience and understanding will go a long way in making the experience enjoyable for everyone.
Using a neutral referee or dealer for smoother gameplay
For a more streamlined experience, appoint an impartial referee or dealer to assist with card shuffling, distribution, and rule enforcement. This person should be well-versed in the game rules and can help settle disputes or clarify gameplay questions. A dedicated referee or dealer can help maintain a smooth and enjoyable flow to the game.
Making the game more enjoyable with snacks and drinks (non-alcoholic or alcoholic)
Every game night has a selection of tasty snacks and refreshing drinks. Prepare various finger foods and beverages to suit your guests' preferences. It can include a mix of savory and sweet snacks and a choice of non-alcoholic or alcoholic drinks, depending on your guests' preferences. Remember to have napkins and coasters on hand to keep the playing area clean and free from spills.
Following these tips, you can create a memorable and enjoyable James Bond card game night that will leave your guests eager for the next gathering.
Conclusion
The James Bond card game is thrilling and versatile, offering hours of entertainment for players of all ages. Its fast-paced gameplay and unique rules make it a perfect choice for friends and family gatherings. We encourage you to introduce this engaging card game to your loved ones and experience the excitement it brings to any social event.
Margarita Alexieva is an editor in numerous health departments of various national and regional daily and weekly newspapers and magazines. She has been in journalism since 1992, and in recent years she has been mainly focused on the topics of news, healthcare and medicine.