Ukraine. Top amazing facts. What language they speak. What about their capital city of Kyiv. The Truth of the Russian Invasion
Ukraine, the topic that doesn't leave the news in recent months. Will we witness the biggest global military conflict since World War II or not? Today we decided to tell you a little more about Ukraine and how the current events came about, we had to change the plan several times because everything is developing so fast.
Remember that you determine which is the next country for 50 facts, write us a comment HERE and the country that is repeated the most becomes an article.
50 Amazing facts about UKRAINE,
that will shed light on the situation.
Territory and Population. History
Excluding Russia outside the mainland of France, Ukraine is the largest country in Europe with 603,000 square kilometers. The population is 44 million. The history tells of a country called Kievan Rus, with the capital Kyiv, which led the beginning of a civilized society in these lands 1000 years ago.
Moscow was then a small village on the outskirts of this country. Despite its complex and ancient history, Ukraine as a state dates back to 1917, after the October Revolution, when Lenin decided that every nation in the former Russian Empire had the right to self-recognition. However, these are the foundations of the Soviet Union. The fate of Belarus is similar.
In 1991, Ukraine declared independence peacefully after the collapse of the Soviet Union. The borders are drawn, but Russia's shadow never dissipates.
Flag, Languages
The flag of Ukraine is quite easy to remember – blue and yellow. It symbolizes the blue sky and the golden fields of wheat. Two languages are spoken in Ukraine – Russian and Ukrainian. The story is a bit similar to the Bulgarian and the Macedonian, quite common words and pronunciation.
In 2019, a decree was adopted restricting the use of the Russian language in Ukraine. Even then, Putin warned that this excluded Russian-speaking people and that this was contrary to their own constitution. We bet most of you don't know what Ukraine's currency is. We will tell you! They shop with Ukrainian GRIVNA. 1 USD is equal to about 30 GRIVNI, now the exchange rate plays a little.
Women
Women in Ukraine are more than men. Thus, for every 85 men, there are 100 women. This is a remnant of the Second World War, when 1 in 5 Ukrainian citizens lost their lives in this conflict. The capital is Kyiv, with a population of about 3 million people and the city is named after one of the four founding brothers – Kiy, the name Kyiv literally means Kiy's.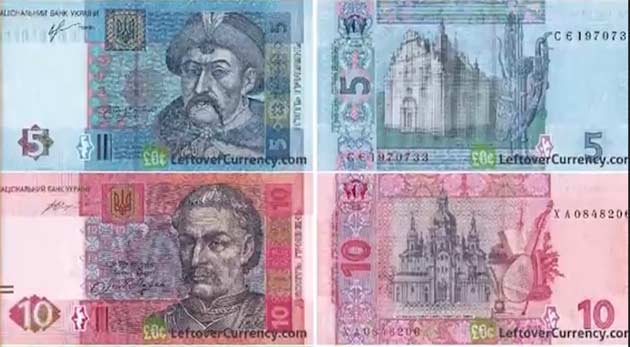 Underground
The deepest metro station in the world is in Kyiv and is 105 meters underground. It can be reached by two escalators and although they are fast you have to spend more than 5 minutes on them to get to the trains, which is also a record.
Apparently, Ukrainians are very fond of McDonald's, because the third busiest restaurant in the world is in peace in Kyiv. One of the biggest catastrophes in the world hit Ukraine in 1986, and that is the Chernobyl nuclear tragedy.
Although located to the north with access to two seas, Ukraine has its own small desert called Aleshkovski Sands. It is 15 kilometers in diameter and in the past was surrounded by pine forests to prevent it from spreading.
Ukraine is considered the granary of Europe. The climate and the black soils allow the cultivation of a huge amount of wheat and is at the forefront of grain exports.
One of the longest caves in Eurasia is located in Ukraine and is called Optimistic. Its name comes from the fact that researchers have been optimistic that it will come to an end, but alas, this is not happening. At the moment, 230 kilometers are marked in corridors, but "Optimistic" still has something to hide.
Part of the Carpathians are located on Ukrainian territory and you may not know, but they have 51 ski resorts. Although most of the country is flat, there is a highly developed ski tourism. The ticket for the lift there is not 45 USD but 10-15 for a whole day.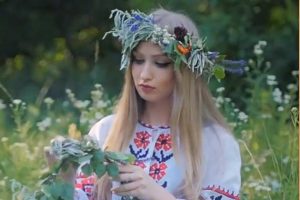 Did you know that the first constitution in the world was written in Ukraine in 1710? For the first time, a document separates the authorities and describes the rights of citizens and government.
The national dish is borsch, the so-called red beetroot soup, and the most famous drink is horilka – alcohol similar to vodka, but with hot peppers inside. We drank, it's top.
Ukrainians are bigger fans of compote than us. In winter, they drink it as tea, warming it with fruit. We don't know why we've always preferred it cold.
The largest aircraft ever built was the Antonov Ann 225 Mriya, which was built in Ukraine during the Soviet Union. Its load capacity is 280 tons. (Reported to have been destroyed)
Did you know that the roots of our Easter tradition of painting eggs come from Ukraine? There, for the first time, they use paints and wax for decoration.
During the Soviet Union, Ukrainians with land or the so-called "kulaks" were declared opponents of the regime and were either killed or sent to camps in Siberia. Thus, 3 million Ukrainians still live in the northern territories of Russia.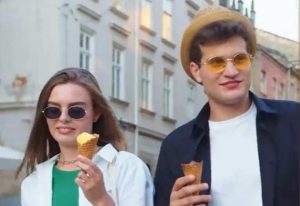 New History and Military
Do you know the so called "great famine"? This is the time when nearly 5 million Ukrainians are starving to death because of Moscow. In general, the two countries have a turbulent history. After seceding from the USSR, Ukraine is the third country in the number of nuclear weapons, after the United States and Russia. They have over 1,000 such warheads.
In 1996, he voluntarily handed over some of them to Moscow and destroyed the others. Whether it is of one's own volition is still debatable, remember that thought.
Dear friends, we enter the more serious part of the story, where we will tell you how this war came about, what are the possible reasons and whether there will be further escalation. We mentioned nuclear weapons earlier. The surrender comes with the signing of the 1994 Budapest Memorandum, in which Ukraine said it would no longer develop nuclear weapons and surrendered all of them.
On February 19, 2022, i.e. 2 weeks ago, the president of Ukraine hinted that he could still enrich uranium for weapons. Many analysts believe that this is the last straw, which is why Putin reacted. However, let us trace the history of the problems between Russia and Ukraine, which date back to Soviet times.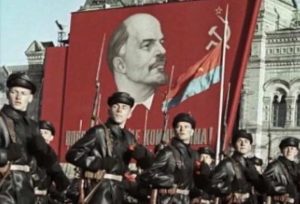 Euromaidan
In 1922 they were absorbed by the USSR and until 1991 they were under constant pressure from them. Remembering this time, Ukrainians today want to distance themselves. Euromaidan, or Euro Square in translation, are the violent protests in 2013 when the government decided to abandon the signing of an agreement with the European Union and focus on closer ties with Russia and Eurasia. This angered the citizens who did not want a Russian, but a European future for their country.
The protests were really large – about a million people took to the streets of Kyiv. They blocked administrative buildings, pushed statues related to Russia, and so the government was overthrown. It is said that America has a finger in this situation. Thus, Ukraine got a new government, which went to Europe instead of Russia.
Donbass
The protests stopped, but there were pro-Russian separatists who began to cause problems in the eastern parts, known as Donbass. They have over 50% Russian population. Russia was not happy with Ukraine's new Western leanings, and the response was not long in coming. In 2014, if you remember, Russia annexed Crimea through a "referendum".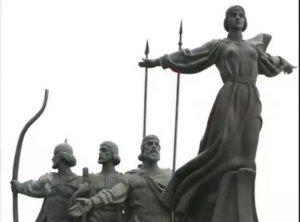 We say referendum with quotes, because it was more like either signing or entering with the tanks. Ukraine retreated. By the way, Crimea was handed over from Russia to Ukraine in 1954 as a sign of and here we quote – eternal friendship. Just look at how times change. Since 2014, the two territories of Donetsk and Luhansk, known together as Donbass, have been the subject of ongoing military conflict between separatists and the government.
Since February this year, they are separate countries, but recognized only by Russia. On the one hand, the European Union and the United States support Ukrainian government. Russia supports the separatists, so the situation has been left for years. Ukraine's path to Europe and NATO is clearly annoying Putin, and since 2014 their relationship has only deteriorated to the point where we are Russia is declaring war on Ukraine, under the pretext of a military operation in Donbass.
Ukraine joining NATO
You must be wondering what Russia wants? What is Putin's problem and why is he attacking a country and people who have done nothing to him? Rather, the question is what Russia does not want, and that is Ukraine joining NATO. On the one hand, we understand Putin's actions, but we cannot approve of his methods.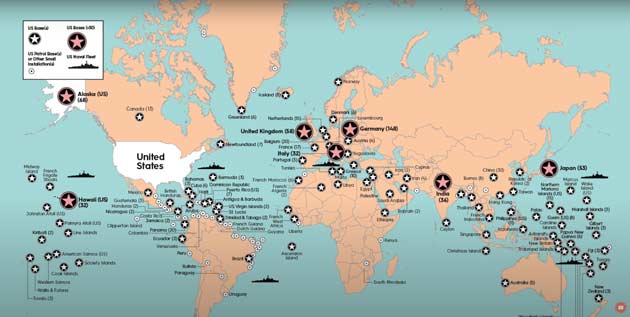 See what we mean. On your screens is a map of US military bases around the world. Do you notice how many there are and how they surround Russia. 750 bases in at least 80 countries. These are only the publicly recognized ones. We do not know how much is kept secret. Here are Russia's bases worldwide. Significantly less and located near it. There are over 100 US military bases in Europe alone, why.
What are they looking for here? The excuse is NATO. Currently, the only buffers between Russia and NATO, understand the United States, are Ukraine and Belarus. If Ukraine joins NATO, as intended, Russia loses ground and the Americans are literally in their yard. So here, on the one hand, we can understand Putin. The alliance's promise in the 1990s not to expand by an inch has not been kept and other states have been annexed.
$ 30 trillion debt
What is with the United States in this case and why they keep poking their noses everywhere? This, perhaps, is a question that many of you ask. Well, they would benefit most from the whole thing, come to think of it. First, a war in Europe would save the financially sinking state. Do you know how much they owe – more than $ 30 trillion earlier this year.
Secondly, if they break Europe's dependence on Russia they will make us dependent on them. we are talking, of course, about gas and fuels. Did you know that half of Europe's gas pipelines pass through Ukraine? Despite the war, gas is flowing, business is business. Germany blames Putin's actions, but gas is coming.
Dependence and independence
"Dependence" is the key word here and the probable cause behind it all. Europe is dependent on Russia, and Putin wants to continue to be so. The United States want the old continent to be dependent on them by supplying fuel and goods. That's why the West has been adding fuel to the fire for years, and just observe the game In the end, the war is economic and money is involved again.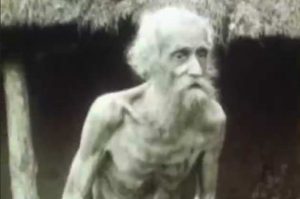 Zelensky, the president of Ukraine, does not hide his American leanings and in recent months and years has visibly demonstrated anti-Russian attitudes in his country, which has a huge Russian population. In general, Putin has his arguments objectively but they never involve a war. This action can ignite much more serious consequences, as well as what to say about human casualties. This conflict will certainly transform Europe more than Covid has succeeded.
How would it all end?
Well no one knows. One option is a global military conflict, with NATO on one side, Europe and the United States, and China-backed Russia on the other. It is clear to everyone that China and Russia are friends, see how Putin comfortably waited for the Olympics to end in order to take action.
Unprecedented sanctions clearly do not scare Putin, who is headlong forward. The goal is obviously to subjugate Ukraine and appoint a puppet government to serve Russia faithfully. The borders of this country have been drawn, it is a free country, you cannot attack, this is really madness. As we know there are many faces to the war, one of the strongest being propaganda, you have to be very careful about what to read and where the information comes from.
And what to believe on, there will be a lot of uncertainty. And having the internet will be scary Worst of all, the majority of Russians support Putin's actions, despite the protests. It is not clear whether this is a matter of propaganda or whether Ukraine has always been considered part of Russia.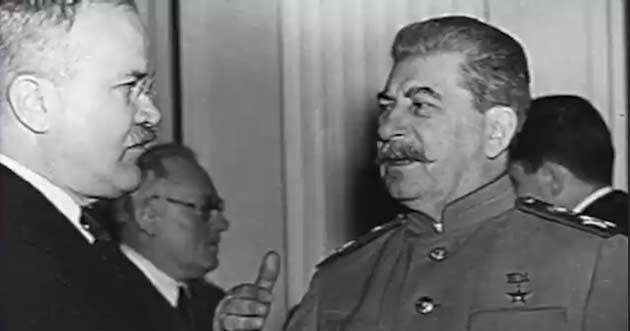 Who can stop Putin?
In fact, only Russian citizens can stop Putin. We know that there are many pro-Russian people among you who support Putin's actions, but this is a war, an unprovoked occupation. Let us just tell you that in his eyes our country is not a friend and now you can be strong behind the keyboards, but tomorrow when they knock on your door we will see.
Dear friends, there is nothing worse than war. When will humanity finally learn its lesson? We believe that Putin's actions are excessive, bordering on insane in the 21st century, and will cost many lives. Pray that this conflict will not overtake us…