Insects in the Bible: Divine Symbolism and Dietary Laws. From Plagues to Proteins: Eating Insects in the Biblical and Modern World 
We embark on an intriguing journey, delving into the wondrous world of insects as represented in the Holy Scriptures. In this engaging exploration, we will interpret the instances where these tiny creatures surface in biblical narratives and their profound symbolic significance.
Recognizing the context in which insects appear in the Bible is paramount for understanding their inherent symbolism. The Bible, a timeless piece of literature, employs rich imagery and metaphoric language, with insects playing significant roles. Their mention often carries a broader meaning, reflecting on human behavior, divine messages, or societal norms, thereby rendering them not mere creatures but potent symbols within biblical lore.
Our in-depth study is meticulously divided into discernable sections, each illuminating a unique aspect of insects within biblical discourse. We shall embark on an analysis of the symbolism of insects, exploring their portrayal across various books of the Bible. Subsequently, we will delve into the specific insects frequently appearing in biblical texts, then examine the use of insects within parables and teachings. A crucial part of our discussion is the dietary laws concerning insects, illustrating what was considered clean and unclean. Additionally, we will scrutinize instances where insects were employed as divine interventions or punishments. Our conversation will extend into a modern context, examining how these biblical references influence contemporary perspectives on entomophagy and the practice of consuming insects. This exploration promises to be an enriching and enlightening journey into the interweaving of theology and entomology within biblical literature.
Biblical Symbolism of Insects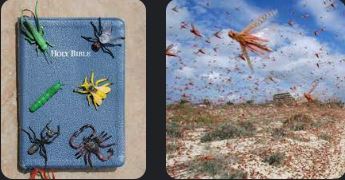 Insects as Metaphors and Symbols in Biblical Narratives
One of the remarkable aspects of biblical literature is the use of metaphoric language, employing imagery from the natural world to convey profound theological and moral lessons. Insects, with their various behaviors and effects on the environment, serve as potent symbols within these narratives.
| Insect | Symbolic Meaning |
| --- | --- |
| Locusts | Symbolize overwhelming destruction and desolation. This symbolism is vividly portrayed in the eighth plague of Egypt (Exodus 10:12-15). |
| Bees | Represent threats and fears but are also linked to industriousness and teamwork, as highlighted in Proverbs 16:24, where their honey symbolizes sweet, pleasant words and wisdom. |
| Ants | Symbolize diligence and foresight, as stated in Proverbs 6:6-8, prompting us to consider the ant's ways and learn wisdom. |
| Flies | Signify contamination and decay, as shown in Ecclesiastes 10:1, where the presence of dead flies causes the perfumer's ointment to give off a foul odor. |
Insects Symbolizing Evil and Destruction
Several biblical narratives utilize insects as representations of evil and destruction. Locusts, for instance, frequently embody forces of overwhelming devastation, their swarms serving as an emblem of divine wrath. The prophetic book of Joel is replete with such imagery, where a locust plague symbolizes the impending Day of the Lord, a time of judgment and devastation.
Furthermore, flies also bear negative connotations, embodying corruption and decay. In Exodus 8:20-32, the Pharaoh's disobedience to God's command to release the Israelites leads to a plague of flies, symbolizing God's displeasure and the resulting corruption.
Highlight of Insects Representing Diligence and Industriousness
Conversely, insects also carry positive connotations within biblical symbolism. The ant, often cited for its industriousness and foresight, is a metaphor for the virtues of hard work and planning in Proverbs 6:6-8.
Similarly, the bee's tireless labor to produce honey, a symbol of wisdom and pleasant words, illustrates the fruits of diligence and cooperative work. These dual aspects of insect symbolism provide a balanced view, reflecting biblical imagery's intricate and comprehensive nature.
Most Mentioned Insects in the Bible
Table Showing the Frequency of Different Insects Mentioned in the Bible
A diverse array of insects is mentioned in the Bible, each carrying a distinctive significance. Below is a two-column table displaying some of the most frequently mentioned insects in the Bible and the number of times they're cited in various translations.
| Insect | Frequency |
| --- | --- |
| Locusts | Approximately 28 times |
| Bees | About 4 times |
| Ants | Twice |
| Flies | 4 instances |
These numbers may vary depending on the version of the Bible.
In-depth Analysis of Locusts and their Biblical Significance
Locusts are, by a considerable margin, the most frequently mentioned insect in the Bible. The image of locust swarms, causing havoc by destroying crops and leading to famine, is a recurrent theme in biblical texts, often associated with divine punishment. However, locusts also play a role in the diet of some biblical characters. According to Leviticus 11:22, locusts are among the few insects considered clean and thus permissible to eat.
Detailed Examination of Bees and the Symbolism of Honey
Though not as frequently mentioned as locusts, bees hold a special place in biblical narratives. Known for their diligence, bees are appreciated for their labor-intensive honey production. The land of Canaan, for example, is repeatedly referred to as "a land flowing all with milk and honey" (Exodus 3:8), emphasizing its abundant fertility and prosperity. Honey itself, the product of the industrious bee, symbolizes the sweetness of wisdom and pleasant words (Proverbs 16:24), further underscoring the bee's positive symbolism.
Insects in Parables and Teachings
Examination of the Use of Insects in Parables
Insects are not merely fleeting symbols in the Bible but also essential characters in several parables. Parables are short stories that carry a moral or spiritual lesson, and the insects within them often represent specific qualities or behaviors.
Examples of Teachings That Involve Insects, Such as the Ant in Proverbs
Proverbs feature a famous reference to ants as a symbol of hard work and forethought in Proverbs 6:6-8.
In this teaching, the ant is praised for its industry and foresight to prepare for the future. It is a caution against laziness and procrastination, showcasing the virtue of diligence and preparation.
Another example appears in Matthew 23:24, where Jesus criticizes the Pharisees by saying, "You blind guides! You strain out a tiny gnat but swallow a camel." Here, the gnat, a tiny insect, symbolizes minor infractions or issues that the Pharisees diligently avoid, while the camel, a large animal, signifies substantial moral failings that they overlook.
| Insects Allowed by The Bible | Latin Names |
| --- | --- |
| Locusts of any kind | |
| Bald locusts of any kind | |
| Crickets of any kind | |
| Grasshoppers of any kind | |
Interpretation of the Meaning of These Parables and Teachings
The Bible's parables and teachings about insects offer profound insights into human nature and ethical behavior. The reference to ants in Proverbs encourages the virtues of industriousness and foresight. It underscores the importance of hard work and planning for future needs, teaching us to be proactive rather than reactive.
Conversely, the reference to the gnat and camel in Matthew's Gospel is a stark warning against hypocrisy. It urges us to be consistent in our moral judgments and cautions against the human tendency to ignore significant faults while nitpicking minor ones. In these instances, using insects as symbols in the biblical parables and teachings provides powerful and memorable lessons.
Insects in the Biblical Dietary Laws
Overview of Dietary Laws About Insects in Leviticus
Leviticus, the third book of the Bible, sets forth dietary laws that define clean and unclean creatures for the consumption of the Israelites. These laws, given by God to Moses on Mount Sinai, categorize insects into two primary groups: those that may be eaten (clean) and those that may not be (unclean).
Analysis of Clean and Unclean Insects According to These Laws
The dietary laws in Leviticus 11:20-23 specifically address the issue of insects. You may eat any locust, katydid, cricket, or grasshopper. But you must regard all other flying insects with four legs as unclean."
The verses highlight that most insects are deemed unclean, and their consumption is prohibited. However, exceptions are made for certain locusts and their kin, including katydids, crickets, and grasshoppers.
Examination of Exceptions to the Rule (Like the Locust)
The exception of locusts and related insects in the dietary laws of Leviticus is intriguing. The scriptures mention these insects as clean, implying they can be eaten. These insects, characterized by their ability to hop on the ground, were an acceptable source of protein and were even considered a delicacy in some Near East cultures.
This exception may have been a practical solution to nourish the Israelites in times of scarcity, as locusts and swarming insects could provide a substantial food source. However, it's important to note that these dietary laws are precise, emphasizing the importance of discernment in obedience to God's commandments.
By exploring these biblical laws, we gain valuable insights into ancient societies' cultural, religious, and even nutritional aspects, revealing a rich tapestry interwoven with faith, survival, and reverence for divine guidance.
Insects as Punishment and Divine Interventions
Discussion on Insects Used as Divine Punishments (Like the Plagues of Egypt)
In the annals of biblical narratives, insects have served as symbols and instruments of divine retribution. The Ten Plagues of Egypt (Exodus 7-12) are prime examples of this phenomenon. The gnats, flies, and locusts that descended upon Egypt represented physical torment and the theological power struggle between the mighty God of Israel and the deities of Egypt.
| Plague | Biblical Verse |
| --- | --- |
| Gnats | Exodus 8:16-19 |
| Flies | Exodus 8:20-32 |
| Locusts | Exodus 10:1-20 |
Examination of Insects as Divine Interventions (Like the Hornets in Joshua)
Beyond their role as a divine punishment, insects have also played a part in divine interventions. The Book of Joshua (Joshua 24:12) states, "And I sent the small hornet before you, which drove themselves out before you, the two great kings of the Amorites; it was not by your sword or bow."
In this narrative, the hornets are perceived as God's tool, their stings helping to drive out the Israelites' enemies, demonstrating insects' multifaceted role in biblical narratives again.
Interpretation of These Events and Their Implications
In biblical texts, interpreting these instances underscores the dynamic relationship between nature and divine action. Insects, often considered insignificant, assume a profound role when wielded by a divine hand, bringing about monumental changes.
In these narratives, insects transform from mere creatures into agents of divine will, signifying God's control over all creation, however small. Whether delivering punishment or intervening in human affairs, these incidents reflect a complex theological understanding, positioning insects as crucial players in the tapestry of biblical narratives.
Modern Perspectives on Eating Insects and the Bible

Discussion on the Growing Trend of Entomophagy (Insect-eating)
Today, we are witnessing a resurgence of an age-old dietary practice: entomophagy, the consumption of insects. This renewed interest has primarily been sparked by global concerns such as food security, sustainability, and nutrition. Insects are protein-rich, environmentally friendly, and can be cultivated with minimal resources, making them a promising alternative protein source.
According to the FAO, insects form part of the regular traditional diets of at least 2 billion people worldwide, with over 1900 species reported as edible.
| Benefits | Examples |
| --- | --- |
| High in Protein | Crickets, Mealworms |
| Environmentally Friendly | Locusts, Silkworms |
| Resource-efficient | Black Soldier Flies |
Examination of Biblical Dietary Laws in the Context of This Trend
When considering entomophagy within biblical dietary laws, one must revisit Leviticus 11:22, where certain insects, particularly locusts, are deemed clean for consumption. This viewpoint offers a fascinating intersection between modern nutritional science and ancient religious texts.
It does not mean that all insects are seen as permissible. The Bible distinguishes between clean and unclean insects, often based on their characteristics and behaviors. This intricate understanding reflects a profound observation of natural life and a deep respect for dietary practices.
Expert Opinions on the Matter, Such as Theologians, Nutritionists, and Entomologists
The revival of insect consumption brings together experts from diverse fields, from theology to nutrition and entomology. Theologians delve into religious texts to provide context and clarity on dietary laws, while nutritionists confirm the health benefits of certain insects. Entomologists, on the other hand, study the characteristics and behaviors of insects, providing valuable insights into safe and sustainable cultivation practices.
Together, these diverse viewpoints enrich the conversation around entomophagy and its relationship to religious dietary laws, pushing the boundaries of our understanding and appreciation of the tiny yet significant creatures that inhabit our world.
Conclusion and Practical Advice
Throughout exploring the relationship between insects and biblical references, we have delved into various subjects. Beginning with the mention of insects in the Old and New Testaments, the rich symbolism of these tiny creatures in biblical narratives, to the complex dietary laws governing insect consumption. We further examined the instances where insects were used as divine interventions or punishments, and finally, we touched upon modern perspectives on insect consumption, aligning them with biblical laws.
Given the biblical standpoint on insects, drawing parallels with modern trends such as entomophagy is fascinating. It is essential to respect the inherent wisdom in ancient dietary laws while adapting to present nutritional and environmental needs. This understanding encourages sustainable practices in food consumption.
This exploration of insects in the Bible serves as a starting point for your study. Dive into the text, seek additional resources, engage in dialogues, and reflect on the confluence of past wisdom and present knowledge.
References
"Eat This Book: A Carnivore's Manifesto" – Link to Amazon here
Gathering the Swarm by Michael Galloway- Link to Amazon here
Marta Savova is a journalist, health, technolgy and science writer. With over 20 years of experience in the field, she has published numerous research papers and articles and has a passion for sharing his knowledge with others. He is a regular contributor to several media.